Two methane explosion victims die in hospital
Two out of five victims suffering serious burns after the methane explosion in northern Hoa Binh province last month, died yesterday afternoon.
Bui Van Quynh, 27 and Bui Van Hoai, 20, died after the deadly explosion. The three remaining victims, aged between 26 and 36, remain in a critical condition at Ha Noi-based National Burn Hospital.
The October 29 incident occurred at a coal pit of the Kim Boi Mineral Exploitation Company in Kim Boi District, injuring six workers. One suffering from light burns was later discharged from hospital.
Reasons behind the explosion are yet to be determined by investigators.
Street racers fined in Binh Duong
Specifically, five of which received fines of VND76 million (US$3,570) for illegally racing on streets and the rest were fined up to VND72 million ($3,380) for cheering and inciting the racers, causing traffic chaos to the city. Three motorbikes were seized.
They were caught after residents informed the police about the illegal street racing on National Highway 13 during the Mid-Autumn Festival. Most are between 14-21 years old.
Border guards rescue two kidnapped women
Lung Cu Station's border guards in northeastern province Ha Giang's Dong Van District yesterday successfully rescued a woman who was abducted to be sold in China.
The victim, Mua Thi Cha, 33, together with Sung Thi Vu, 23, both Mong ethnic women from Lung Cu Commune, were abducted in a car by two individuals while they were on the way to Malin market in China's southwestern Yunnan province on October 19.
Vu was fortunately rescued by Vietnamese and Chinese border guards on October 25 after a phone call to her family informing them about her situation. Further investigation led to Cha's rescue after 10 days.
The abduction is still under investigation.
Iron fist crackdown on traffic violations
Ha Noi Traffic Police have launched a two-month long campaign to patrol and handle violations on traffic safety in five suburban areas in the capital city.
According to head of Ha Noi Police's Road and Traffic Police Office Dao Vinh Thang, five mobile teams with seven police each started to patrol yesterday in Long Bien, Gia Lam, Soc Son, Hoai Duc and Son Tay districts.
The police will focus on violations such as drunk driving, driving in the wrong lane and speeding.
Beef jerky sold in Hanoi made from wheat flour
Following rumors that fake beef jerky sold in Hanoi markets was made from sponge foam, the Department had asked its subdivision in Hanoi to test some samples.
Test results showed that the product was labeled 'Spicy side of beef' and ingredients listed to include wheat flour, water, vegetable oil, sugar, salt, chilli, monosodium glutamate and food additive.
Therefore the product violated food safety regulations because it contained no beef as announced on the label.
Hanoi leaders seek to verify those responsible for Cat Tuong case
The People's Committee of Hai Ba Trung District in Hanoi are trying to identify all individuals and agencies connected with Dr. Nguyen Manh Tuong, owner of Cat Tuong Beauty Salon, who has been charged with throwing his client's dead body into the Hong River after a botched cosmetic surgery.
Nguyen Van Hieu, Chairman of the People's Committee and other leaders admitted to negligence in management and supervision of private medical clinics in their area, which included the Cat Tuong Beauty Salon that was operating without a valid license.
Cap Sy Phong, Deputy Chairman of the People's Committee, has been held accountable for this incident as he had been assigned to manage and supervise private medical clinics in area under his jurisdiction.
District leaders criticized the Department of Health in Hai Ba Trung District and the People's Committee of Dong Tam Ward with negligence.
They requested that the Chairperson of the People's Committee and the Department of Health in Dong Tam Ward identify all persons or agencies that should be held responsible for this tragic incident.
Wage, social insurance policy reform committee set up
The Prime Minister on November 4 signed a decision to establish a central steering committee for reform of wage and social insurance policies and incentives towards people who rendered services to the nation.
Under Decision No. 2016/QD-TTg, the committee will be headed by Deputy Prime Minister Vu Van Ninh, who is aided by the Minister of Home Affairs as permanent deputy and the Minister of Labour, War Invalids and Social Affairs and the Finance Minister as deputies.
The committee is tasked to study, build and supervise the implementation of projects on the overhaul of salary policy towards public servants, armed forces and workers at businesses, and social insurance policy.
It will coordinate with relevant ministries and agencies to mull over socio-economic policies regarding wage and social insurance policies and incentives towards people who made contributions to the revolution.
The decision came into effect on November 4 to replace Decision No. 858/QD-TTg dated July 9, 2007 by the Prime Minister.
On August 6, the National Wage Council made its debut, with the task of studying and making suggestions to the Government on the regional minimum wage for 2014 during the remaining months of this year.
The council is set up under Decision 1055/QD-TTg dated July 3, 2013, in line with provisions of the 2012 Labour Code and Government Decree 49/2013/ND-CP issued on May 14, 2013.
Civil servants members of the armed forces and socio-political organisations staff enjoyed an increase of 9.5 percent to their monthly minimum wage from July 1, 2013, which was the fifth minimum wage increase in the past five years.
According to a new government decree issued on July 1, the wage rose by 100.000 VND (4.076 USD) from the previous 1.050.000 VND (50 USD).-
AO victim's library spells out hope for rural children
When Huynh Thanh Thao was a child, she had to stay at home while other kids in her village went to school every day.
Although she was eager to learn, her mother had decided that a child with a disability should stay home.
So, she asked her mother to teach her the alphabet and spelling, and whenever relatives or friends visited, she begged them to help her learn. And she got her hands on every available newspaper, eventually becoming a fluent reader.
Thao, whose family lives in rural Cu Chi district, over 70km northwest of the Ho Chi Minh City's centre, was born with a genetic disorder called brittle-bone disease, characterised by fragile bones that break easily.
She cannot walk as her legs are abnormally short and weak from myasthenia, likely caused by Agent Orange, doctors have said. Despite her struggles, she says she never feels sad or desperate now as she sometimes did as a child. Today, she is often seen smiling. "With my stature, only smiles can help people feel closer to me," Thao said.
As a youth, she empathised with disadvantaged and disabled children in the community who had no opportunity to learn or even attend school. So when she was 14, she began holding classes at her home for them.
Initially, she taught maths and language skills to a group of 10 children, but later her classroom grew to 30 students, many of them attending university. Today, in her hometown of Rang village, students call her "Co Ba" (Aunt Three), and view her as both a teacher and friend.
Although Thao has difficulty walking, she has travelled to other areas of the country to bring gifts and scholarships to children. She uses the money from library dues to fund scholarships for disadvantaged students or students with disabilities in Ho Chi Minh City and neighbouring provinces. "If I give everything I have, happiness will come to me," she said of her outlook toward life.
When Thao began holding classes, she saw that many of her students could not afford books. Her dream to start a library with a small bookcase was realised when, after appearing on a Ho Chi Minh City radio programme, listeners began giving her books.
Then, in 2009, an American woman who had seen photos of Agent Orange victims taken by her friend, visited Thao at her family's home. When the woman returned to New York, she raised funds to build a freestanding concrete library in front of Thao's home.
Today, a large sign reading "Thu Vien Mini" (Mini Library) stands above the building that houses more than 3,000 books. Thao charges 500 VND for book rentals. Indigent students do not have to pay.
Ninth-grader Bui Tram Anh is one of many children in the commune who regularly visit the library. "My family cannot afford books or comics, so the Co Ba library is necessary for me," Anh said, adding that many of the books are related to what she is learning at school. Anh says she also borrows comics from the library to relax after a hard day of studying.
The gratitude of thousands of students in the area like Anh has helped soften Thao's mother's attitude about people with disabilities. "I am happy to see Thao full of joy," said her mother, Nguyen Thi Xuan. For her teaching efforts, Thao was honoured three years ago at the Fifth National Patriotic Emulation Congress held in Ho Chi Minh City.
"The things that my daughter has done helped change my thinking about people with disabilities," Xuan said. "They can have independent and useful lives, and they have the right to have an education and a job, just like those without disabilities.".
Vietnamese, Lao war vet associations cement ties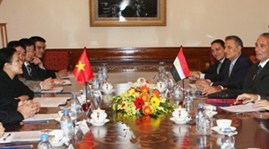 The War Veterans' Associations of Vietnam and Laos are expected to work together to further deepen the special relations between the two countries in the future.
The two associations have shared their experiences in promoting bilateral cooperation, especially in poverty reduction, said Senior Lieut. Gen. Nguyen Van Duoc, head of the Vietnam War Veterans' Association (VWVA), at a reception hosted by Lao Vice President Bounnhang Volachith in Vientiane on November 5.
The Lao Vice President said he hopes both sides will strengthen cooperation and actively participate in poverty reduction, national construction and promoting bilateral ties.
He stressed that the two associations have promoted their roles over the past years in helping the youth better understand the special ties between Vietnam and Laos .
He highlighted the visit as a manifestation of the relationship and thanked the VWVA for its assistance in the cause of Lao people's national salvation.-
Seminar mulls over press skills training
The event was organised by the Press Department under the Ministry of Information and Communications (MIC) in conjunction with the Swedish Institute for Further Education of Journalists (FOJO).
At the seminar, Hoang Huu Luong, head of the Press Department, provided a panorama of the Vietnamese press circle and the country's demand for personnel training in this field.
A representative from the Swedish Embassy reviewed the outcomes of a Swedish International Development Agency project that provided support to Vietnam's media during the 1996-2013 period.
Anette Novak, a FOJO expert, made a speech on the world's media and the training of journalists in the context of rapid globalisation as well as Vietnam's media development in the future.
According to chairman of the press consultation and training council Do Quy Doan, globalisation is an inevitable and objective trend which has strongly impacted on all social domains in countries worldwide.
As a result, the media have got involved in the trend, helping to promote the process of globalisation, he said.
While sharing opinions on the opportunities and challenges in media development and training in Vietnam, delegates at the seminar sought ways to step up cooperation between the press training centre of Vietnam and relevant Swedish agencies, especially the FOJO.
Since its inception in Vietnam in 1998, the FOJO has helped form the press training centre under the MIC and organised training courses for Vietnamese reporters and editors across the country.-
National target programmes help ensure social security
Vietnam has 16 national target programmes covering such areas as building new rural areas, employment and vocational training, sustainable poverty reduction, and child protection. They greatly contribute to ensurubg social security. Report by Radio The Voice of Vietnam.
Despite economic difficulties, Vietnam has managed to reduce poverty and ensure social security. According to deputies at the ongoing 6th session of the 13th National Assembly, this is thanks to the national target programmes which have been implemented in the last three years. The deputies stressed the need to give priority to some target programmes in the near future.
Vietnam counts 16 national target programmes covering different areas. In the last three years, total State funding and ODA allocated for these programmes reached more than 80.2 trillion VND (38 million USD, accounting for 33 percent of the funding estimated for the 2011-2015 period.
These programmes have helped Vietnam fulfill social security targets and the Millennium Development Goals, facilitating poverty reduction and the improvement of living conditions in disadvantaged areas.
Nguyen Thi Thanh Hoa, a deputy from Bac Ninh province, said: "The achievements that we have recorded in the last three years are remarkable and important. The Party, Government, and National Assembly always pay special attention to social security. Despite economic difficulties and decreasing GDP, due investment has been poured into social security.
"As a result, people's lives have been improved, the poverty rate has been brought down year after year and reduced quickly in poor districts. The rate of social insurance participation has increased and the number of social beneficiaries has been expanded. Incentives to support education and provide rice for poor and ethnic minority students are in place."
Deputies also pointed out some shortcomings in implementing the programmes. Many of the 16 national target programmes have overlapping functions and tasks assigned to different ministries and sectors.
Deputies suggested reviewing these programmes and proposed narrowing these programmes and component projects to make the investment more effective.
La Ngoc Thoang, a deputy from Cao Bang province, said: "It is necessary to review the targets of each programmes, then reduce and integrate them to make match our resources.
"We need to adjust capital ratios, increase investment in development, especially infrastructure development in the area of transportation, schools, and clinics while reducing administrative costs. We need to have flexible approaches in each region to gain the best results."
Minister of Planning and Investment Bui Quang Vinh said: "In the meantime, the Government needs to maintain these 16 programmes, then cut down component ones and narrow their targets to make them match resources and reality. In the next two years, we should not start any new projects but instead focus on completing ongoing projects. After 2015, we will consider the integration of the national target programmes."
After 2016, the Government will consider keeping two or three key programmes such as poverty reduction and new rural development. Hoang Dang Quang, a deputy from Quang Binh province, said: "I agree with the Government that in the context of economic difficulties, we still need to give priority to agricultural and rural development. So I propose that the National Assembly and the Government increase investment in agriculture and incentives for farmers.
"At the same time, we need to strengthen agricultural restructuring focusing on mechanisms on consuming agricultural products, stimulating production, securing outlets for these products and adopting appropriate policies on agricultural materials."
In order to make national target programmes more effective, the Government will delegate more power to local authorities and reduce intervention by ministries and sectors, so local authorities can implement the programmes on their own initiative and be responsible for them. The success of these programmes will contribute to sustainable economic growth and poverty reduction.-
Construction of HCM City Ring Road No. 3 to start in 2015
Construction on the first section of the Ho Chi Minh City Ring Road No. 3 will start in early 2015.
Ground clearance for the first section from Tan Van-Nhon Trach will be carried out next year, announced the Dong Nai People's Committee and the Asian Development Bank on November 4.
The Dong Nai local authority said compensation for land acquisition to construct the 26km section between the Tan Van three-way crossroads (National Highway No. 1A) and Nhon Trach (Nhon Trach Bridge crossing Dong Nai River), and resettlement will be developed carefully to harmonise interests of both local people and investors.
The Ho Chi Minh City Ring Road No.3 Project contains Tan Van-Nhon Trach, Binh Chuan-National Highway 22 and Highway 22-Ben Luc sections.
The project will have a significant impact on socio-economic development in the eastern region of Southern Vietnam in general and in Dong Nai in particular, said Vice Chairman of Dong Nai People's Committee Tran Van Vinh.
The road is one of four important ring roads in Vietnam 's 2020 expressway network development plan that has a vision beyond 2020 approved by Prime Minister Nguyen Tan Dung in 2008.
The construction covers a total length of 73km through four provinces and cities, namely Ho Chi Minh City, Long An, Dong Nai and Binh Duong provinces.-
Standard procedures necessary to co-ordinate local inspections
Agriculture, forestry and fishery product inspections are not planned well, said Nguyen Thi Xuan Thu, Deputy Minister of Agriculture and Rural Development.
Speaking at a meeting in Ha Noi yesterday, Thu said sometimes one factory was inspected by both local authorities and inspection groups from the Cultivation Department and Animal Health Department.
When violations were found, it was difficult to impose fines because of the lack of uniform standards. From now on, the standards should be made public so that businesses would know what punishment they faced, she said.
Nguyen Xuan Hong, director of the Plant Protection Department, said it would be easier to supervise product quality if inspectors focused on high-risk areas.
For example, he said, instead of inspecting thousands of shops trading in plant protection products, inspection groups could first focus on 97 high-risk shops.
Moreover, in order to prevent the trading of fake products, Hong suggested authorities co-operate with large business groups, which have their own market teams working to find fake products.
"What matters is not how many inspections we conduct, but the efficiency of the inspections," Hong said.
The director held up the decrease in imports of poor quality fruit as an example of efficient inspections.
In the past month, the department inspected nearly 5,300 packets of goods of plant origin imported from over 40 countries.
Out of 74 samples of vegetables and fruits examined, only two samples of persimmons and apples were found containing pesticide residue beyond the acceptable level.
However, there have been many violations when it comes to agricultural supplies. Inspections carried out in October revealed that over 75 per cent of factories producing agricultural supplies and seafood and agricultural products met requirements.
However, nearly 45 per cent of poultry slaughterhouses were categorised as in need of re-inspection or under consideration to have their licenses revoked.
Meeting looks at overseas workers
Around 30,000 Vietnamese labourers currently work in the region, primarily in Saudi Arabia, United Arab Emirates, Qatar, Libya and Algeria, according to the Ministry of Labour, Invalids and Social Affairs' Department of Overseas Labours. Saudi Arabia receives the highest number of Vietnamese workers, currently around 15,000 and mostly in construction, mechanics and transport.
The Middle East and North African market received many unskilled workers and was considered suitable for Vietnamese workers, who were assessed as hardworking and brisk, according to the department.
However, participants agreed that geographical distance and differences in customs, culture, climate and religion continued to hinder co-operation between Viet Nam and the Middle East and North African nations.
Vietnamese workers also face competition with labourers from other countries in terms of both skills and foreign language abilities. Palestinian Ambassador to Viet Nam Saadi Salama said that Middle Eastern and North African countries needed many foreign workers, but Vietnamese labourers often failed to meet their requirements.
While Vietnamese workers were industrious and professional, they lacked essential skills and needed to be trained before working abroad, he said, recommending that Viet Nam build vocational training centres that would teach workers not only about the jobs they would have abroad but also about the customs and cultures of other countries.
Labour co-operation between the regions has been developed for 10 years. However, Vietnamese Ambassador to Saudi Arabia Tran Nguyen Tuyen stressed the need for a long-term strategy to boost labour co-operation.
Experts question reproductive health policy
A proposed policy to offer more reproductive health support to ethnic women is under threat after population experts claimed it would be impossible to implement efficiently.
Dissenting voices argued that the proposal, while well-meaning, was unfeasible due to the shortage of beneficiaries and high level of work required of medical workers.
The proposal, which had been submitted as a draft decision and edited by the Ministry of Health (MoH)'s Department of Maternal and Child Health, was receiving feedback ahead of being sent to the prime minister's office for approval.
Under the draft, minority women living in poor remote areas and having no more than three children would receive financial support for health checks, prenatal checks and their delivering baby in a hospital.
Pregnant women would also receive an allowance for travelling from their houses to medical stations or hospitals for checks. The allowance was calculated at 0.2l of petrol per kilometre. At present it is about VND5,000 (US$0.23) per kilometre.
If they had to reside in hospital, they would receive an allowance of 3 per cent of the minimum wage per day, equivalent to VND32,000 ($1.50).
The MoH calculated that more than 1.2 million poor minority women could benefit from the policy, however, Dao Vi Phuong, deputy head of the Viet Nam Women Association's Family and Society Board, rejected the statistics and said the number of beneficiaries would be far fewer.
Women in ethnic communities often had four or five children and would therefore not qualify for the support, she said.
Deputy Director of the Dien Bien General Hospital Vi Thi Hoa said that the most difficult problem would be managing the fund in communal medical stations, which lack accountants and cashiers.
"If medical workers have to also operate as accountants and cashiers, losses can happen easily," she warned.
Director of the Nghe An Reproductive Health Centre Nguyen Ba Tan shared another concern, arguing communes would use the fund to solve other more prioritised problems, leaving women waiting up to five or six years to receive the allowance.
Meanwhile, deputy director of the Lao Cai Department of Health Dam Thi Lien criticised the regulation surrounding travel allowance.
Lien said that medical workers in remote areas did not have the capacity to measure the distance between the women's houses and the medical stations.
To be sure of the exact distance, communal land survey workers must check it and officially certify the information.
However, in a Kafkaesque scenario, Lien predicted that local women would reject the allowance intended to help them because of the complicated and bureaucratic process.
Amenities projects planned for Ly Son
Ly Son Island will have electricity and clean water in the third quarter next year, chairman of the island People's Committee Tran Ngoc Nguyen confirmed on Monday.
Construction on the VND652.5 billion (US$31 million) power and VND22 billion ($1.04 million) clean water projects would start early next year, she said.
A 35km power line including 26.2km of underground cable will provide electricity for the 21,000 residents of An Vinh and An Hai, the major villages on the island.
The clean water system will cover shortages of water in the dry season (June-September). Its daily capacity of 1,000 cubic metres will increase to 6,000 cubic metres by 2020.
The chairman said the power network would fuel fisheries and farms and improve living standards for islanders.
"The island has to pay an average of VND10 billion annually to cover the costs of diesel generators. Last year, we had to pay VND18.3 billion because the low electricity prices did not cover the initial investment," Nguyen said.
"We hope that the stable electricity source will help boost agriculture, fishery and tourism."
Vietnam donates rice to Cambodian flood victims
The Vietnam National Assembly on November 6 presented 1,000 tonnes of rice as its special gift to Cambodian people affected by recent floods.
Addressing the presentation ceremony, Cambodia National Assembly Chairman Heng Samrin noted the gift testifies to the fraternal solidarity as well as the mutual assistance spirit between the two nations.
Vietnamese ambassador to Cambodia Ngo Anh Dung extended condolences to the bereaved and expressed his belief Cambodia will soon overcome the consequences of the aftermath and stabilise people's lives.
Subsequent floods over the past months have claimed 80 lives and caused huge property damage worth approximately US$1 billion.
Wheelchairs given to Thai Nguyen disabled people
The Lawrence S. Ting Community Support Fund of Taiwan (China) presented 140 wheelchairs and 50 tricycles to people with disabilities in the northern province of Thai Nguyen on November 5.
The aid worth a total of US$15,300 was given to those residing in eight districts, cities and townships across Thai Nguyen.
In the past seven years, Lawrence S. Ting has provided teaching tools such as computers, projectors and microscopes, totalling nearly US$30,000 for the province.
It has also donated US$10,500 to Thai Nguyen to facilitate the study of its rural and poor students.
Belgium supports water source management in Ninh Thuan
The Belgian Government has committed EUR8 million to a EUR9.5 million project on water source management and urban development in the south central province of Ninh Thuan.
The project will last until November 2019, with the aim to increase the province's capacity and mechanisms for the work in a changing climate.
It will establish a comprehensive strategy on climate change based on hydrographical studies and models at the Dinh River basin and Dam Nai area, and a climate change-adaption strategy at the provincial level with the active participation of the community and private sector, contributing to the province's sustainable development.
Two abducted ethnic women rescued in border area
Border guards in the northern mountainous province of Ha Giang on November 5 successfully rescued a Mong ethnic woman who was abducted in China last month.
The victim was Mua Thi Cha, 33, from Lung Cu commune, Dong Van district. On October 19, Cha and Sung Thi Vu, 23 and from the same village, went shopping in Malin market in the Chinese province of Yunnan when they were forced into a car, said Nguyen Hai Ly, head of the Lung Cu Border Guards.
Taking advantage of the kidnappers' negligence, Vu on October 23 made a phone call to her family who later notified Lung Cu border guards.
Two days later, Vu was rescued by Lung Cu border guards who had earlier asked for help from their Chinese counterparts and reunited with her family.
An investigation is underway.
Experts discuss mercury emission control
Experts gathered in Hanoi on November 5 to share information on curbing environmental pollution caused by mercury emissions and realising the United Nations Minamata Convention on Mercury.
The workshop brought together representatives from the Vietnam Environment Administration, the United Nations Environment Programme and the United Nations Industrial Development Organisation.
Deputy Director General of the Vietnam Environment Administration Nguyen The Dong said as the country is suffering from the socio-economic development pressure, environmental pollution caused by chemical emissions is a major problem.
The working session creates a good opportunity for the administration and related organisations to tighten their cooperation in keeping the mercury emission pollution in Vietnam under control.
Participants said global experience shows that curbing chemical emissions is an effective method to restrain ecological contamination.
However, this approach is relatively new to Vietnam, they said, adding that's why the Ministry of Environment and Natural Resources has worked closely with relevant organisations to promote the control of chemical pollution.
They also discussed a number of issues relating to the field such as proposing activities and calling on organisations to carry out activities to control mercury emission to the environment, with focus on the thermo-electricity and gold mining sectors.
Australian NGO donates wheelchairs to disabled children
The Australian humanitarian organisation Wheelchairs for Kids will work with Project Vietnam to present 166 wheelchairs to disabled Vietnamese children in need.
A Wheelchairs for Kids representative expressed hopes the donation will help improve their recipients' quality of life and encourage their full participation in their communities.
The donation is also part of the Australian Government's celebrations marking the 40th anniversary of its diplomatic relations with Vietnam.
The organisation has presented more than 5,500 wheelchairs to haddicapped Vietnamese children over the years.
Established in 1998, Wheelchairs for Kids is an ancillary of Western Australia's Scarborough Rotary Club . The non-profit organisation's 140 retiree members build 350 wheelchairs per month.
Final contest "UNICEF Mobile Hackathon 2013"
Team OCEAN 4 and the Ga Trong (Coq) from Ho Chi Minh City won the final of the competition "UNICEF Mobile Hackathon 2013" which took place on November 2.
This contest was designed to create software solutions to social problems for Vietnamese children.
It consisted of two trials, the first on the itinerary of a lifetime 1000 days to improve access to health care information and services for women and their children from conception to age two years, and the second on the Community responsible tourism to children.
The contest, the first of its kind in Vietnam, has attracted the participation of 31 teams consisting of 100 application developers for mobile terminal.
The winners receive a bonus of 10,000 USD provided that their applications are completed and distributed on the market.-
Cancer remains big challenge to health sector
Cancer remains a big challenge to Vietnam's health sector although a national target programme on cancer prevention and control has been underway for the past several years.
The assessment was made at a conference on cancer prevention and control held in the northern mountainous province of Thai Nguyen on November 5.
The function heard more than 50 reports on such themes as Vietnam's cancer situation, cancer prevention and early diagnosis, the use of radiation in cancer treatment, and the disease situation in Thai Nguyen in 2011 and 2012.
At present, there are 25 cancer hospitals and centres in Vietnam, where some 150,000 new cancer patients are recorded and 70,000 of them die every year.
Overcrowding at special institutions across the country is also considered as a pressing problem that cannot be solved overnight, participants said.
The Thai Nguyen Tumour Centre each year treats about 6,000 inpatients and over 19,000 outpatients. Most of the female patients suffer from breast cancer while lung cancer is more common in men here.
The event was co-organised by the Vietnam Cancer Association in coordination with the Thai Nguyen General Hospital.-
Binh Duong works to cope with climate change
The southern province of Binh Duong on November 5 approved a programme on the active response to climate change, natural resources management enhancement and environmental protection in the 2016-2020 period.
Accordingly, the programme aims at continuing to upgrade the capacity of coping with climate change and prevent natural disasters, reducing green house gas emissions and ensuring all locals have access to clean water.
It also wants 70 percent of urban areas to have concentrated wastewater treatment systems and 100 percent of the areas to install their own solid waste treatment systems.
The province will also strengthen water management by requiring all industrial parks to install water treatment systems and 80 percent of operating industrial clusters to have a system meeting environmental standards.
Binh Duong will also focus on personnel training on climate change response, reducing green house gas emissions and minimising the impacts of rising tides in coastal areas.
According to Tran Van Nam, Vice Chairman of the Binh Duong People's Committee, a dyke system must be built along the Saigon River to prevent flooding in residential areas along its banks.
Climate change, which has led to increasingly irregular natural disasters, especially floods, is threatening the socio-economy and people's living conditions in the province. Notably, rising tidal levels in Saigon and Dong Nai Rivers in mid-October flooded many localities in Binh Duong.-
Dong Nai: all IZs have waste water treatment plants
Waste water treatment plants have been built at all 31 industrial zones (IZs) in the southern Dong Nai province, including those still under construction, according to the provincial industrial zones authority.
Just last month, Long Thanh IZ put into operation the third phase of its waste water treatment plant with a capacity of 5,000 cu.m per day and night. Nhon Trach 5 IZ also launched trial run of the second phase of its plant which has a daily capacity of 4,000 cu.m.
Total daily capacity of operational waste water treatment plants at all IZs in the province has reached 111,500 cu.m.
More plants are expected to start operation in the fourth quarter of this year at Long Duc, Loc An Binh Son and An Phuoc IZs, with capacity ranging from 2,000 – 9,000 cu.m. per day.
According to the provincial Department of Natural Resources and Environment, the IZs have also installed waste water flow meters and automatic monitoring equipment. Among them, 12 IZs now send data on waste water discharge to the department.
Hanoi resumes use of Quinvaxem vaccine
The vaccine, which is made in the Republic of Korea, is being administered again after a five-month suspension that resulted from nine deaths and dozens of cases of severe allergic reaction in infants who received the vaccine earlier this year.
The Health Ministry suspended the use of the vaccine on May 4 and an investigation began. Findings have so far failed to show that the deaths were connected to the quality of the vaccine.
Quinvaxem prevents five common and potentially fatal childhood diseases, including diphtheria, tetanus, pertussis, hepatitis B and meningitis.
The vaccine will be administered to around 15,000 children in a round of vaccinations that began on November 5. Emergency teams have been set up in medical stations and hospitals across the city in case of abnormal reactions.
Manufactured by the Republic of Korea's Berna Biotec Company, Quinvaxem has been used in the country since 2010. Over 400 million doses of the vaccine have been administered in 90 countries since 2006, according to the WHO.
Vietnam purchased 15.8 million doses following the Government's approval to use Quinvaxem in an expanded vaccination programme designed to protect infants against deadly childhood diseases.
Educators receive professor and associate professor titles
Chairman Pham Vu Luan of the State Professor Title Council and Minister of Education and Training has signed a decision to confer titles on 547 new professors and associate professors.
Of these, 56 educators are to be granted the title of professor, while 491 others receive the title of associate professor. The faculties of medicine receive the most new professors (13) and associate professors (74) of any field.
Among the new professors, the Vietnam Institute for Water Resources Research's Tran Dinh Hoa, who was born in 1970, is the youngest, while 30-year-old Le Anh Vinh of Vietnam National University in Hanoi is the youngest new associate professor.
The eldest educator to receive the title of professor this year is Le Nguyet Nga, born in 1941, from the Ho Chi Minh City University of Sport.
A ceremony to present certificates to the newly designated professors and associate professors is scheduled to be held at the Temple of Literature in Hanoi on November 18.
Source: VOV/VNA/VNS/VOV/SGT/SGGP/Dantri
Beef jerky sold in Hanoi made from wheat flour have 5960 words, post on at November 7, 2013. This is cached page on Asean News. If you want remove this page, please contact us.