A new face in the Workers' Party is getting people's attention in Singapore.
With word on the street swirling around that WP will contest the new Sengkang GRC (group representation constituency) this coming general election, all eyes are on who they might field next.
Giving a glimpse of potential candidates is Lee Li Lian, WP deputy treasurer and former member of parliament of Punggol East SMC (single member constituency).
Lee posted Facebook photos on March 16 introducing other party members on their regular walkabout at Sengkang Central, and announcing that WP's twice-weekly house visits will be thrice-weekly from now on.
One of the individuals she highlighted was Jamus Lim.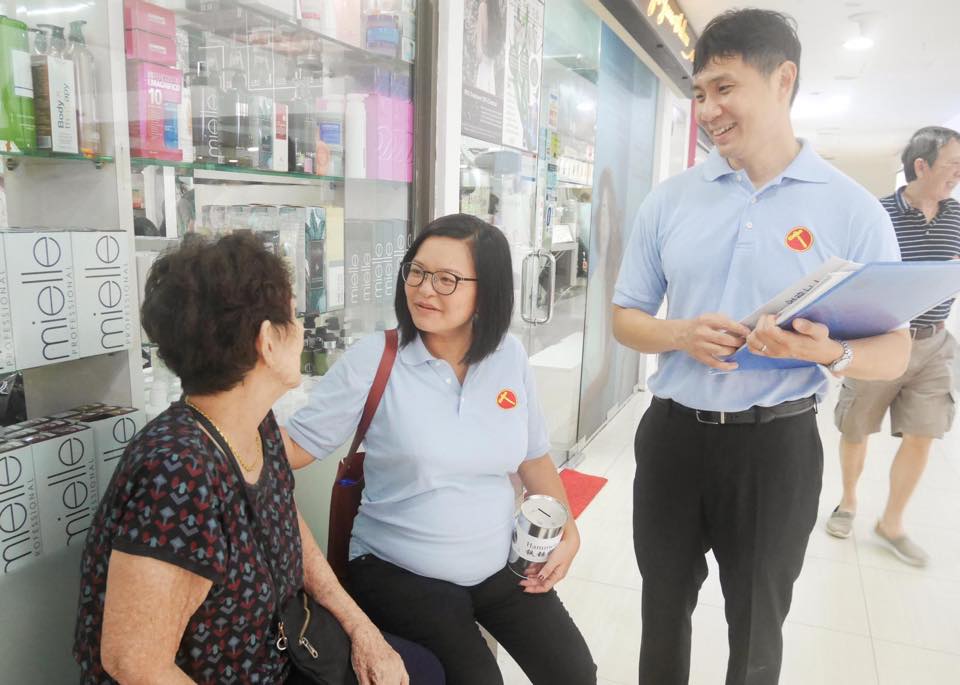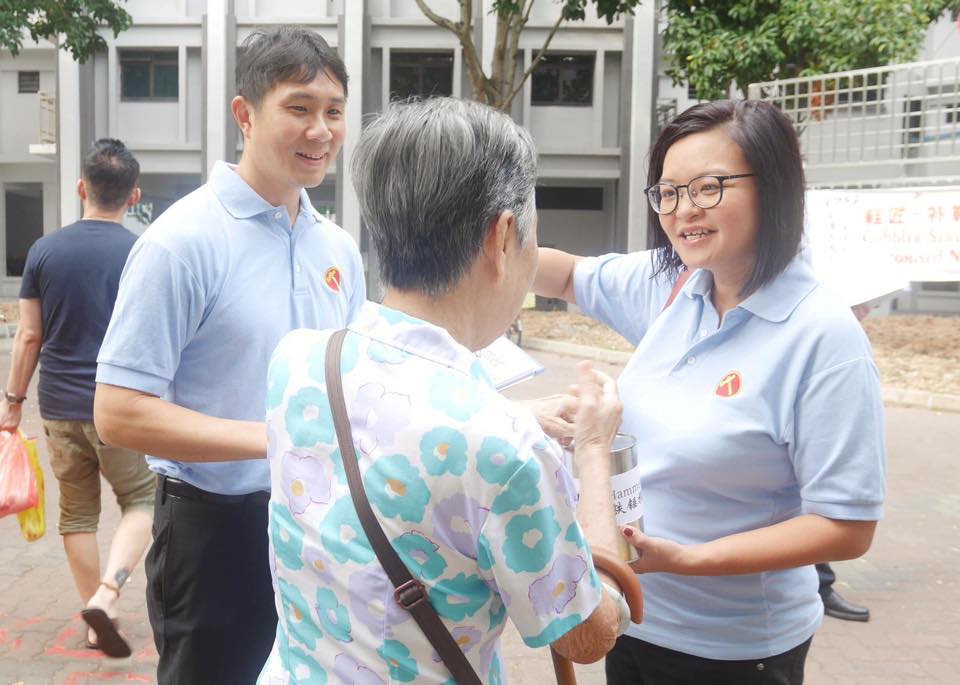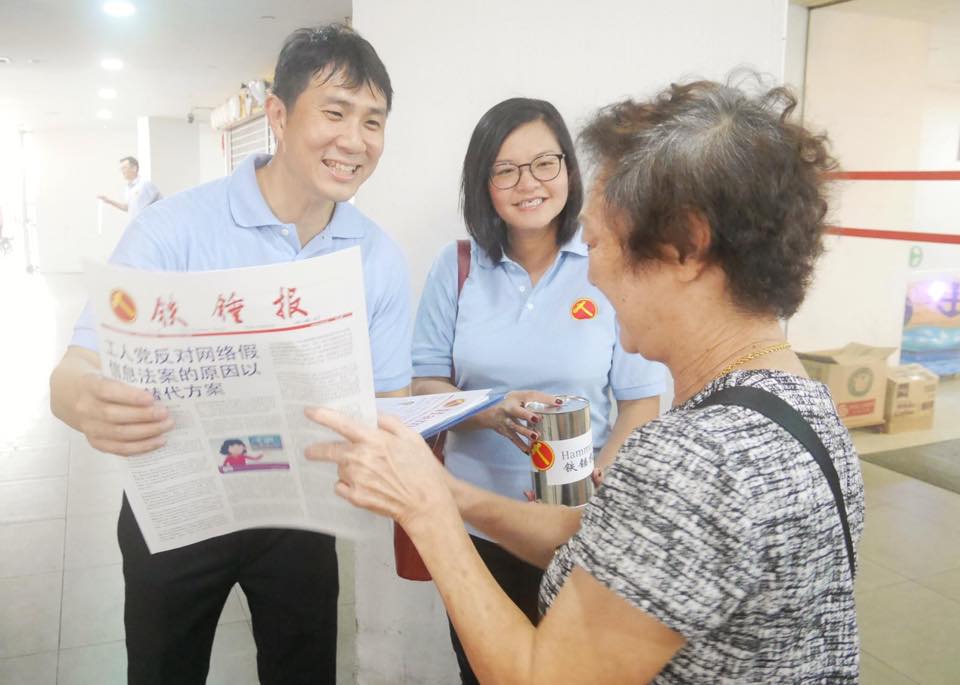 Who is Jamus Lim?
The 44-year-old exudes big brain energy, given the trove of information about him online ( LinkedIn and CV ).
In short, Lim is an associate professor of economics at ESSEC Business School, and a Raffles Institution alumnus.
He holds multiple degrees from Harvard University, London School of Economics, University of South Queensland, and University of California, Santa Cruz.
He was even working in the World Bank where he spent over seven years in the Development Prospects Group in charge of long-term macroeconomic forecasts for the international financial institution.
This is how stacked his credentials look: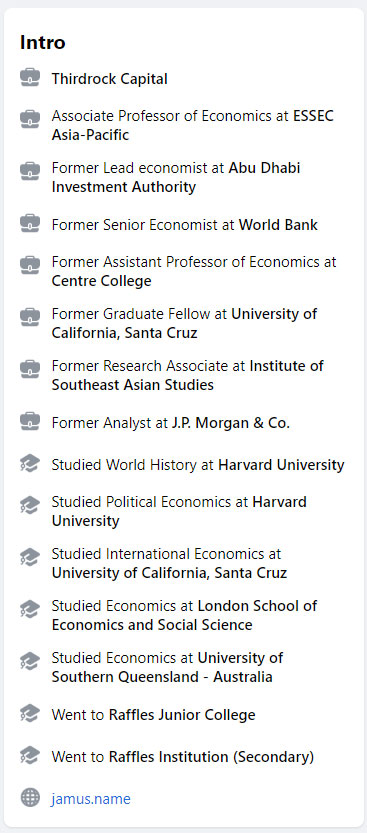 His personal website suggests he was active online ever since dial-up internet was a thing (circa mid-1990s), and he has eclectic tastes, and is a renaissance man :
Surprise, surprise: His views were sought on national television, as he previously appeared on CNA in December 2019 giving his take on Singapore's public sector year-end bonus:
Lee previously introduced Lim as a new party member in September 2019.
She mentioned then that he had been walking the ground with WP "for some time".
Precious little is known about Lim otherwise, but that could change with the general election fever heating up as he would be called upon to front media interviews.
What else would Singaporeans like to know about Jamus Lim?
Talk about Jamus Lim is definitely not new.
Lianhe Zaobao in December 2019, after putting boots on the ground, ran a gutsy piece on Lim, shedding light on how he might be a prospective candidate.
Zaobao wrote that WP chief Pritam Singh brought Lim along then as a newcomer during his grassroots visit to Chong Pang City Wet Market & Food Centre.
The Chinese newspaper also noted the regularity with which WP introduced more white-collared professionals for the last two elections.
Some of these new candidates graduated from elite universities.
Zaobao's report also noted that as per WP's usual practice, it avoids introducing newcomers before elections, and said Pritam has not introduced Lim formally.
Zaobao also said Pritam pointed out that WP was not ready to have the newcomer face the media yet.
The paper also noted that Lim and another new member have continued to conduct their walkabouts around Sengkang constituencies after Lee gave birth.
Why is Workers' Party likely to contest Sengkang GRC?
The four-person Sengkang GRC was cobbled together by merging former Sengkang West and Punggol East SMCs, with parts of Pasir-Ris Punggol GRC slapped onto it for good measure.
WP contested both Sengkang West and Punggol East SMCs in the last general election, but both constituencies have been wiped off the electoral map.
In 2015, Senior Minister of State for Transport and Health Lam Pin Min won Sengkang West over WP's Koh Choong Yong with 62.13 per cent of the votes.
PAP's Charles Chong narrowly overcame the incumbent Lee with 51.77 per cent of the votes.
Lee won Punggol East in a 2013 by-election on the WP ticket.
Top photo collage via CNA Workers' Party
Workers' Party could field Jamus Lim, economics professor, Harvard grad & RI boy, in Sengkang GRC have 654 words, post on mothership.sg at October 5, 2020. This is cached page on Asean News. If you want remove this page, please contact us.