The fact that so many victims turn hostile should be a matter of concern.
Why would a 23-year-old LLM law student level rape charges against the principal of her college in Shahjahanpur given that he was also the most powerful personage in that town?
The fact that she had over 42 video clips to corroborate her charges of sexual exploitation helped reinforce the argument that she was not making any fly-by-night charges.
And yet one year later, this same LLM student turned hostile while deposing before a special MP/MLA court in Lucknow claiming she had made no such (rape) charges against the former politician and minister, Swami Chinmayanand.
She is just one more in a long line of rape victims who have turned hostile because they lack the financial muscle to take on the structural biases that are inherent in our system of governance.
And this, when in her case, the Supreme Court had ordered an SIT to fast track the investigation.
Not unexpectedly, having dared to take on the 'high and mighty', she now finds herself slapped with perjury charges.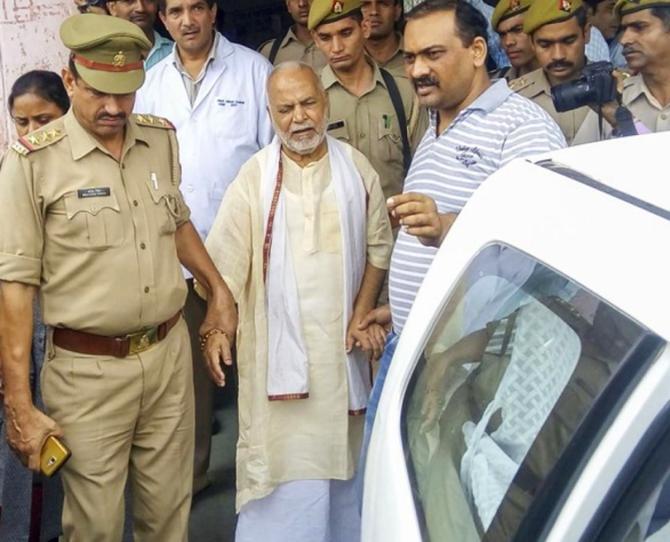 IMAGE: Former Union minister Swami Chinmayanand, accused of rape by a law student, outside a government hospital after a medical examination following his arrest by the Uttar Pradesh police in Shahjahanpur.
From the start, following the filing of the law student's charges, the state machinery had swung into action to protect Swami Chinmayanand.
The Bharatiya Janata Party leader was not charged with rape under the stringent Section 375 of the Indian Penal Code, but under Section 378 C which is a charge short of rape and is applied when someone in authority takes advantage of his official position to 'induce or seduce' a woman to have sex with him.
Suhashini Ali, president of the All India Women's Democratic Association, points out, "The case ( against Swami Chinmayanand ) was filed under a weakened law and although the law student was the victim, from August 2019 to December 2019, she was kept in jail on charges of extortion."
She was subsequently released from jail, but so was Swami Chinmayanand after he had spent a short duration in jail. At the time of his release, his followers were standing outside the jail with bouquets of flowers in their hands.
During the last few months, sources close to the law student point out that she had come around to believe that she would not get any justice from this present dispensation. "Her case was not moving forward and her hopes of getting justice were receding with each passing day," a colleague of hers pointed out.
The law student's case is just one amongst thousands where a rape victim finds herself pitted against such odds that she invariably ends up turning hostile.
This is more so in the case of Dalit women with National Crime Record Bureau data showing that four Dalit women are being raped every day.
The fact that rape victims turn against their own testimony is a reflection of the shoddy investigation done by the police as much as of the slow pace at which the wheels of justice proceed.
To ascertain this trend, the Hindustan Times studied the outcome of 663 rape cases decided by the Delhi courts between 2014-2015. More than half the cases saw acquittals because the victims turned hostile in the course of the trial.
One such rape complainant confessed that despite having been raped for several years, she retracted her statement under family pressure because the accused was a close friend of her father.
Family pressure in lieu of a financial settlement seems to be a key reason for withdrawal of complaints as also pressure by the police who often represent the interests of the often upper caste assailants.
Several activists believe that in such cases the courts need to take action against the police as also question families who pressurise their daughters to withdraw their complaints in lieu of a financial settlement.
Senior lawyer Kirti Singh points out, "The compensatory schemes for rape victims are not working effectively, and in a lot of cases, a settlement is taking place outside court."
"The scales of justice are so uneven that a poor rape survivor finds it difficult to stand up against a powerful and well-heeled assailant. Families, therefore, prefer to opt for a settlement," says lawyer Singh.
The situation seems to be the same even in cases of child rape victims who are governed by POSCO which is a much stricter law.
POSCO ensures the immediate arrest of the accused and fast track hearings. Even this is not working in a majority of cases with families of the victim opting for out-of-court settlements.
The situation is the same across the country.
The Bharosa Centre, which provides legal, medical and counselling services to victims of sexual assault in Hyderabad, recently highlighted how from 52 such cases, in 48 cases, the victims turned hostile, thereby ensuring dropping of charges against the accused.
The fact that so many victims turn hostile should be a matter of concern. If so many accused persons continue to roam freely in society, this becomes an additional liability to women's safety.
"There is a persistent sense of threat the victim and her family experienced from the accused and many back off because of this," says an official from the Bharosa Centre.
"Often the victims are from other states and visit the city occasionally and that is another reason why they do not want to pursue it further," the official added.
In some instances, the victims prefer to leave the city because of the sense of shame and stigma attached to being a rape victim,' the official added.
"Many times the victims are too poor and economically weak. No amount of counselling and guidance can help such victims as they need to work on a daily basis and do not want to face frequent adjournments," the Bharosa Centre official added.
Dr Ranjana Kumari, director of the Centre for Social Research, agrees. "Lapses in the investigation make it difficult to take the legal battle forward. Often the accused belong to the upper castes and are able to intimidate the lower caste families through sheer muscle power."
"In fact, the entire bureaucratic machinery is bought into play to intimidate the victim who often belongs to a poor family," adds Dr Kumari.
Nothing illustrates this better than the recent Hathras incident where the district magistrate and his underlings forcibly cremated the dead without the permission of her family members.
Says Dr Kumari, "The state machinery came out in support of the four Thakur assailants. Now they have hired two powerful lawyers to fight on behalf of the state government and the assailants. What chance does this poor Valimiki family have?"
Destruction of rape evidence in the Hathras case was highlighted by Dr Azeem Malik of the Aligarh Muslim University who pointed out that samples of the sperm were brought for forensic examination eleven days after the alleged rape had been committed in Hathras by which time all evidence had been destroyed.
Senior Supreme Court advocate Vrinda Grover points out, "The door is left wide open for the accused, leaving the victims and their families with little choice. The threat from government machinery is too much to withstand."
"Evidence is destroyed, witnesses are ineffective," adds Grover, "and there is no protection mechanism in place. There is an inherent structural vulnerability which comes into play in all of this."'
Grover believes if the entire proceedings including the recording of evidence are completed within a record two months time, we will see fewer cases of victims turning hostile.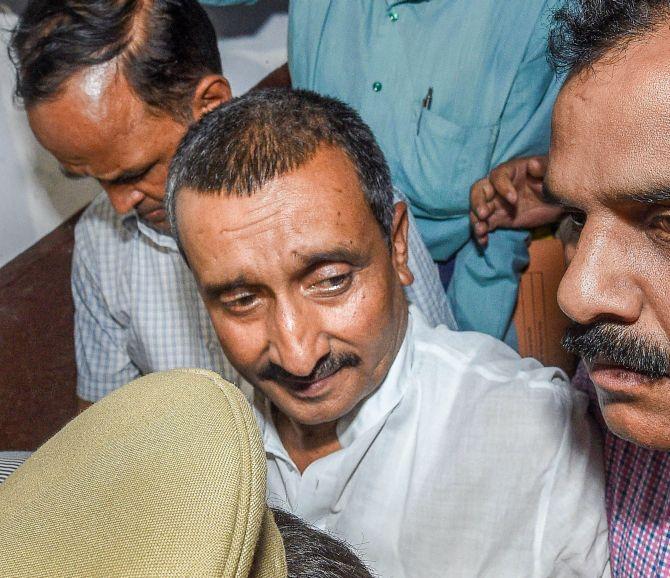 IMAGE: Former BJP MLA Kuldeep Singh Sengar.
A rape victim who is willing to take on the might of the State must be prepared to pay a heavy price as happened in the Unnao rape case.
I had the opportunity of meeting the Unnao rape survivor in a guest house in Unnao where she and her family had been shifted following her attempt at self-immolation outside the state chief minister's residence in Lucknow.
She had recently lost her father and all she managed to whisper was how shattered and terrorised she was by the manner in which her father was beaten to death by "the vidhayak 's ( Kuldeep Singh Sengar ) brother and his associates".
She herself survived a near-death experience after the car she was travelling in was rammed by a killer truck. This led to the death of her aunts and left both her and her lawyer seriously injured.
It was at the intervention of the Supreme Court that both the lawyer and she were airlifted to AIIMS in Delhi from Lucknow so that they could avail of better medical treatment.
She and her family members were granted permission to live in Delhi under police protection because she was apprehensive of another attack her if she returned to Unnao.
When I walked through her village in Unnao district in order to understand what other villagers thought about this particular case, not one family was willing to speak on this subject. It was obvious they feared retribution from the powerful Sengar family.
This conspiracy of silence helps ensure rape cases continue to rise. In 2019, the country recorded 88 rape cases every day. Of the total 32,033 reported rape cases in the year, 11% were from the Dalit community.
One fact becomes obvious as one deals with this complex issue. An institutional, structural bias has been built around caste solidarity.
With the perpetrator confident of getting social and political protection, a solution to this complex issue requires the involvement of the police, the judiciary and the public at large. Little of this seems however to be happening on the ground.
Rashme Sehgal has had a long career in journalism and has worked for The Times of India , The Indian Post among other newspapers.
Feature Presentation: Rajesh Alva/ Rediff.com
Why do rape victims turn hostile? have 1733 words, post on www.rediff.com at November 3, 2020. This is cached page on Asean News. If you want remove this page, please contact us.