MANILA, Philippines—From unwrapping an immigration bribery scheme at the country's main gateway, which has been christened pastillas scam, to digging into new reports of anomalies at Philippine Health Insurance Corp. (PhilHealth) that led to the resignation of its president, the Senate found 2020 to be not only the year of the pandemic but also of scandals.
The year 2020 not only was dominated by news about the pandemic, but also reports about irregularities that found themselves being unmasked in the higher chamber of Congress.
'Pastillas' in NAIA
Pastillas is a local soft candy made out of milk, sugar, flour and eggs. It is usually wrapped in wafer-thin paper in different colors.
At the immigration section of the Ninoy Aquino International Airport (NAIA), however, pastillas has taken on a new meaning.
What started off as a Senate probe into sex trafficking linked with Philippine offshore gaming operators (Pogos) turned into the unraveling of a purported bribery scheme involving immigration officials and personnel.
The modus? Provide Chinese nationals, mostly Pogo workers, seamless entry into the country in exchange for P10,000 in "service fee" for each Chinese.
The investigation into Pogo-related sex trafficking, led by Senate women committee chair Sen. Risa Hontiveros, began in January. It was revealed that Chinese prostitution rings have emerged in the country and are operating online.
Hontiveros looks into Chinese prostitution dens: Sen. Risa Hontiveros, chair of the Senate Committee on Women, Children, Family Relations and Gender Equality, presides over a public hearing last Jan. 28 on the proliferation of human trafficking in the country brought about by the influx of Philippine Offshore Gaming Operators (POGO). (Albert Calvelo/Senate PRIB)
A few weeks after the first hearing, a bribery immigration scheme took the spotlight and became the center of the investigation.
'Pastillas' system: Sen. Risa Hontiveros, chair of the Committee on Women, Children, Family and Gender Equality, vows to further investigate the alleged pastillas system in the Bureau of Immigration to "weed out corrupt officials and propose policy changes," during a hearing on human trafficking at the Philippine Senate last Feb. 17. (Joseph Vidal/Senate PRIB)
This, after Hontiveros, citing an informant, exposed a system allegedly centralized by agency higher-ups.
READ: A P10 billion scheme: Alleged 'pastillas' modus in BI exposed in Senate hearing
"Somebody sold our country's borders for Chinese money," Hontiveros had said.
These "payouts" from Chinese nationals were purportedly distributed to immigration officers wrapped in bond papers and rolled, which gave them the appearance of pastillas .
The whistleblower eventually revealed himself in another hearing and recounted his story about the pastillas scam.
Bribery scheme inside BI: Sen. Risa Hontiveros (left), chair of the Committee on Women, Children, Family Relations and Gender Equality, and Sen. Imee Marcos listen to the account of Immigration Officer Allison Chiong at a public hearing on human trafficking last Feb. 20 where he related the alleged bribery scheme known as "pastillas" inside the Bureau of Immigration. (Joseph Vidal/Senate PRIB)
A few months later, another whistleblower, Jeffrey Dale Ignacio, surfaced in the Senate to testify on the immigration bribery scheme.
READ: 'Pastillas' scam 'foot soldier' surfaces at Senate as new whistleblower
During the Senate investigation, Chiong and Ignacio corroborated each other's testimonies and tagged former BI ports operation division chief Marc Red Mariñas as the "ringleader" of the scheme. Mariñas has since denied the allegation, claiming ignorance.
Whistleblowers Jeffrey Dale Ignacio (left) and Allison Chiong (right) during one of the hearings of the Senate into the 'pastillas' scam. Photos from Senate PRIB
READ: 'Parang pyramid 'yan:' Ex-ports operation chief tagged as 'ringleader' of 'pastillas' racket
"I consider the ' pastillas ' scam investigation one of the most controversial and revealing probes conducted in the Senate this year because we were able to present damning evidence about systemic corruption that cannot easily be denied. Corruption, unfortunately, is endemic to many of our institutions," Hontiveros told INQUIRER.net in a message.
"However, our Senate inquiry proved that through the steely resolve of victim-survivors like Carina and Ivy, the courage of whistleblowers Alex Chiong and Dale Ignacio, the unrelenting work of law enforcement officers, and the cooperation of different government bodies, making corrupt officials and personnel accountable for their crimes is possible," she added.
READ: 'Treated like a slave:' Taiwanese bares abuse from Chinese Pogo employers
During the probe, Hontiveros had revealed that the "masterminds" of a "corrupt business model" in the immigration bureau have allegedly pocketed over P40-billion in kickbacks since 2017 by facilitating the entry of Chinese nationals through the so-called Visa Upon Arrival (VUA) scheme and the " pastillas " scam.
READ: P40B kickback through 'pastillas' scheme, VUA issuances bared
While her committee had an "inkling" that the rise of Pogos would eventually lead the Senate panel into scrutinizing the country's immigration bureau, Hontiveros admitted that she did not expect the "depth and breadth of the corruption in our immigration bureau."
"It was disheartening to know that our own officials essentially sold our borders and made our women and children vulnerable to abuse in exchange for grease money. Nonetheless, it's been quite a relief to see that through our investigations, corrupt officials can pay for their crimes," she further told INQUIRER.net.
After the Senate probe exposed the pastillas modus, the National Bureau of Investigation filed complaints against over 100 immigration officials and employees for alleged involvement in the bribery scheme.
READ: 86 individuals in 'pastillas scam' face criminal raps before Ombudsman — NBI
READ: NBI presses raps vs 20 tagged in 'pastillas' scam
The revelations in the inquiry also earned the wrath of President Rodrigo Duterte, who recently summoned suspended immigration officials in Malacañang for a "dressing down." Unconfirmed reports said Duterte made the BI officials eat money in a gesture of rage.
READ: Duterte summons suspended BI execs; dares them to eat money rolled like 'pastillas'
Following the pastillas investigation, Hontiveros' committee will now be zeroing in on another possible "revenue stream" at the country's main gateway, this time involving the trafficking of Filipino women for prostitution abroad.
READ: Senate panel eyes probe into trafficking of Filipino women abroad
PhilHealth fund mess
A heated meeting among PhilHealth officials, which led to several PhilHealth officials turning in resignation letters , sparked another Senate probe that unearthed one of the biggest stories of the year.
In July, Senate President Vicente Sotto III and Sen. Panfilo Lacson filed Senate Resolution No. 475 calling for the assembly of of the Senate as a committee of the whole to probe the alleged "rampant corruption , incompetence, inefficiency" in the PhilHealth.
The proposed investigation sought to look into the alleged overpriced procurement of IT equipment; the supposedly questionable release of billions of funds through the state-run firm's Interim Reimbursement Mechanism (IRM) and the alleged manipulation of the corporation's financial records.
During the first of three hearings on the issue, lawyer Thorsson Keith, the anti-fraud officer that resigned from the agency after the controversial meeting, describe the recent PhilHealth anomalies "crime of the year" that resulted in the loss of P15-billion of the state insurer's funds, allegedly pocketed by members of the PhilHealth "mafia."
Resigned PhilHealth anti-fraud officer Thorrsson Montes Keith testifying at the Senate last Aug. 11. (Joseph Vidal/Senate PRIB)
He and another whistleblower, board member Alejandro Cabading, tagged members of PhilHealth's executive committee as part of the alleged "mafia." Members of PhilHealth's executive committee had denied this during the hearing.
Senators also questioned PhilHealth officials on the proposed P2.1-billion information technology project, which whistleblowers claimed was overpriced, as well as alleged favoritism in IRM fund releases.
Senate President Vicente Sotto III (left) and Sen. Panfilo Lacson listen to the explanations of resource persons at the Senate probe of anomalies at PhilHealth last Aug. 18. (Joseph Vidal/Senate PRIB)
The IRM is a funding measure to reimburse health care institutions to allow them to continue responding to a national emergency or calamity, such as the aftermath of Supertyphoon "Yolanda" in 2013 and the Marawi siege in 2017. This year, it is for the COVID-19 pandemic.
Health Secretary Francisco Duque III, who chairs PhilHealth board in an ex-officio capacity, was also dragged into the alleged anomalies and was tagged as the alleged "godfather" of the PhilHealth "mafia."
The health chief denied this allegation.
"[A]bsolutely malicious and without basis. I don't wish to dignify that allegation," Duque had said.
After three separate hearings lasting a total of over 30 hours, the Senate Committee of the Whole, chaired by Sotto, came out with its report containing its findings and recommendations last September.
The committee recommended charges against Duque , former PhilHealth president Ricardo Morales and several other top officials for the alleged misuse of funds through the agency's IRM.
Report on PhilHealth inquiry: Senate President Vicente C. Sotto presents to the floor last Sept. 1 the 88-page report of the probe on PhilHealth anomalies. (Joseph Vidal/Senate PRIB)
Sotto told INQUIRER.net that the Senate's PhilHealth investigation could be "one of the most controversial" this year since the irregularities were "unearthed when the country was experiencing a devastating health problem and yet the health officials involved were insisting that there was nothing injurious happening with the people's money."
Red-tagging
An online post warning a young actress and a beauty queen against engaging with a progressive women's group ignited backlash for a top military official and prompted a Senate committee to investigate what is now popularly known as red-tagging.
READ: Parlade denies anew red-tagging Soberano, Gray, Locsin
Hearing on red-tagging: Sen. Panfilo Lacson, chair of the Senate Committee on National Defense and Security, Peace, Unification and Reconciliation, presides over a hearing on red-tagging last Nov. 24.(Henzberg Austria/Senate PRIB)
Armed Forces of the Philippines (AFP) Southern Luzon Command chief Lt. Gen. Antonio Parlade Jr. received flak for warning actress Liza Soberano and Catriona Gray against involvement with Gabriela Women's Party-list, which he had repeatedly claimed was a communist front.
Sen. Panfilo Lacson, chair of the Senate defense committee, then called for an inquiry on the issue last November.
Parlade and the defense sector faced the Senate inquiry in "full force" and used it as a venue for accusations that the left-wing Makabayan bloc of lawmakers in the House of Representatives were involved in the underground communist movement.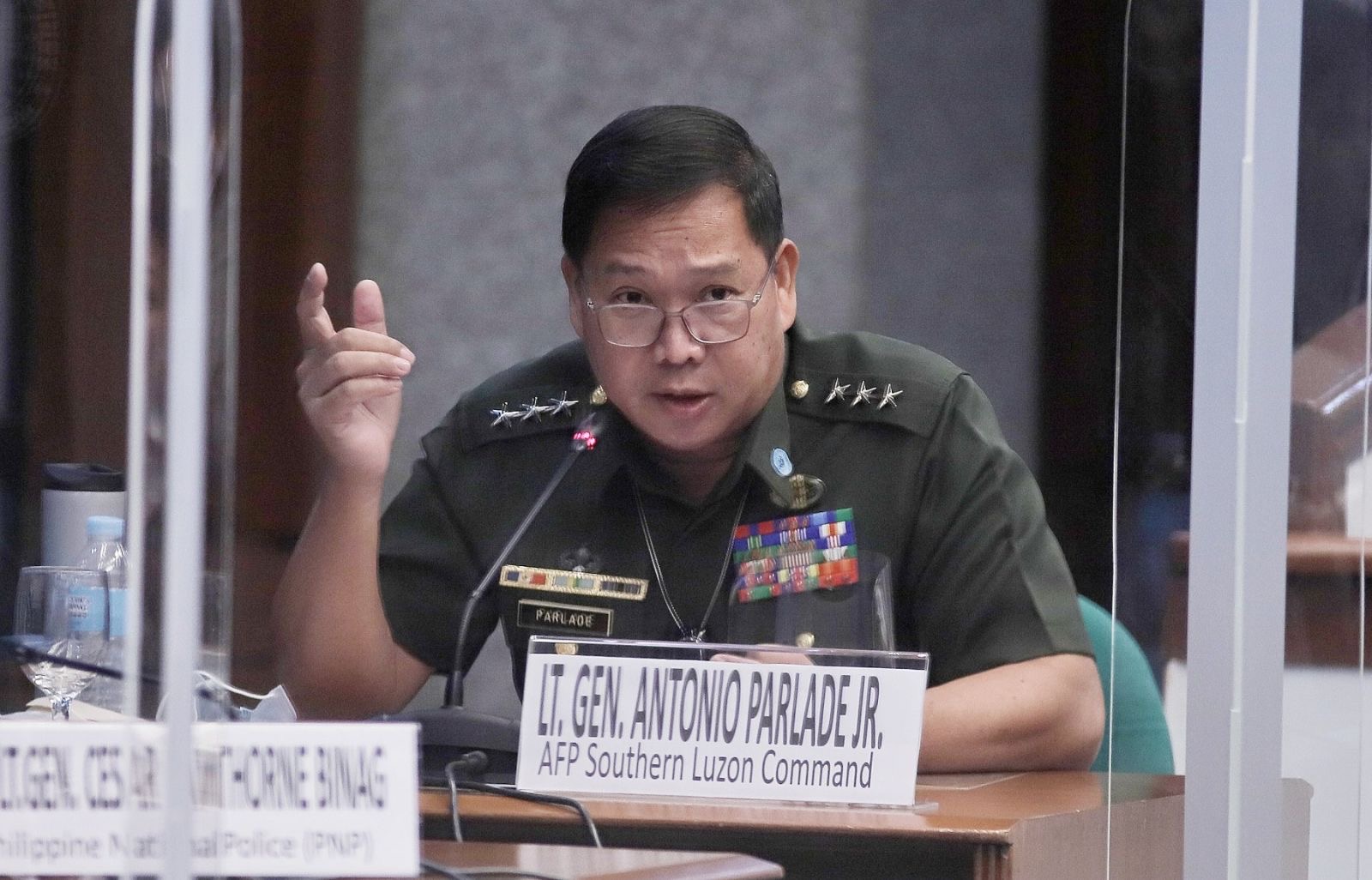 PARLADE PHYSICALLY ATTENDS RED-TAGGING HEARING: Armed Forces Southern Luzon Command chief Lt. Gen. Antonio Parlade Jr. of the National Task Force to End Local Armed Conflict (NTF-ELCAC), attends the Senate hearing on red-tagging last Dec. 1. (Joseph Vidal/Senate PRIB)
The security sector had presented several alleged former rebels, who accused the progressive lawmakers of having links with the Communist Party of the Philippines.
READ: Jeffrey Celiz: Getting to know government's finger-pointing 'cadre'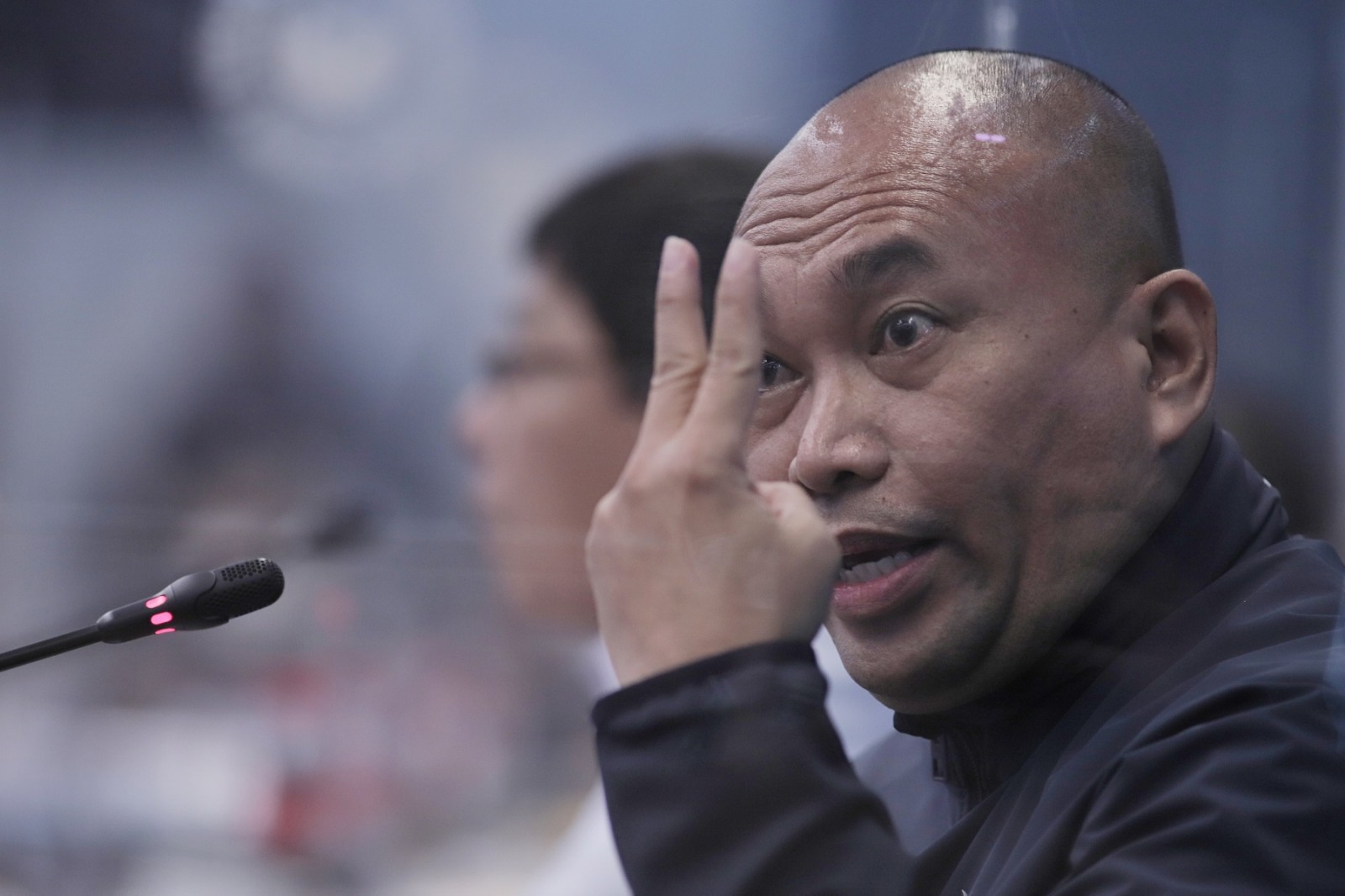 EX-NPA CADRE APPEARS BEFORE THE SENATE: Jeffrey Celiz, who claims to be a former member of New People's Army (NPA), attends the Senate hearing on red-tagging last Nov. 3. (Joseph Vidal/Senate PRIB)
Former and current Makabayan bloc lawmakers denied these accusations and cited the dangers of red-tagging.
READ: Over 300 killed, 2,500 'illegally arrested' in anti-red ops, says ex-solon
"If you are red-tagged, of course you will become a target, you will be scared and you will opt to become silent. Red tagging is guilt by association with our accusers playing the role of judge, jury and executioner," said former Bayan Muna Rep. Teddy Casiño at one of the hearings.
CASIÑO ATTENDS HEARING ON RED-TAGGING: Former Bayan Muna Rep. Teddy Casino, now spokesman of Bagong Alyansang Makabayan, attends the Senate red-tagging hearing last Nov. 24. (Henzberg Austria/ Senate PRIB)
In the course of the investigation, some sectors criticized the conduct of the hearings, saying that it was being used by the military as a "venue for witch hunting."
READ: Activists frown on Senate hearing on red-tagging
READ: Some Makabayan solons 'disappointed' with 'terror-tagging spree' at Senate
Lacson, who led the probe, maintained that the investigation had been fair.
READ: 'Burden of proof is on you,' Lacson tells witnesses linking solons to CPP
He said both sides had been given equal opportunity to air sentiments and concerns.
Lacson said his panel will collate all testimonies and documents from both sides and "come up with our conclusions and recommendations in our committee report."
The Senate inquiry also ignited discussions on criminalizing red-tagging, which Lacson said he was "seriously" considering but admitted that passing such a legislation would be a "tall order" in the upper chamber.
READ: Criminalizing red-tagging a 'tall order' in Senate — Lacson
Other controversial investigations in the Senate were triggered by the massive flooding in parts of Luzon and the monstrous traffic caused by the shift to a completely cashless payment scheme in tollways.
Flooding in Luzon
In November, the country's news cycle was dominated by images of submerged homes and flooded roads. This, after three typhoons hit the country in a span of weeks.
With the massive flooding catching the attention and concern of senators, an inquiry was called to determine why this happened.
READ: Lawmakers seek inquiry into causes of Luzon flood
At the hearing, senators had called on concerned agencies to put up proper infrastructure and interventions to prevent the repeat of the disasters.
READ: DPWH wants at least 5 more dams in Cagayan River
Toll traffic
Before the year ended, the head of the Toll Regulatory Board (TRB) took a beating at a Senate inquiry into the faulty implementation of the radio-frequency identification (RFID) payment system in tollways, particularly along the North Luzon Expressway.
Transportation Secretary Arthur Tugade at one point during the hearing admitted seeing flaws within the TRB.
"Let's be frank here, I saw a failure of implementation in the TRB" Tugade told senators during the Dec. 18 hearing.
READ: 'Prangkahan': Tugade admits there's 'failure' within TRB amid RFID mess
Lawmakers also scored the TRB chief for failing to impose sanctions against toll operators over glitches in the RFID system since 2017.
READ: TRB scored for not punishing toll firms over RFID glitches since 2017
"You have the power but you don't use it. Ever heard of 'regulatory capture?' The TRB is being 'captured.' Operators are laughing at us," said Sen. Sherwin Gatchalian.
The regulatory board recently earned the ire of the President, who warned its officials that they would be removed in the event of "another fiasco."
READ: Another fiasco and you're all fired, Duterte warns TRB amid RFID mess
Sen. Grace Poe, chair of the Senate public services committee, said the TRB chief should just step down from his post before he is sacked over the RFID mess.
READ: TRB chief should just resign instead of getting sacked over RFID mess – Poe
What's next?
With 2020 coming to a close, the Senate is gearing up for another year of investigations in search for clear answers on controversial issues.
Among resolutions filed in the Senate were calls for an investigation into the spate of extrajudicial killings in the country as well as an inquiry into the government's "game plan" on the vaccination of Filipinos against COVID-19.
READ: Several senators seek probe into spate of unlawful killings in PH
READ: 'What's the game plan?' Senate to look into gov't COVID vaccination program
The chamber is also expected to look into the P33-billion "parked" funds in the Philippine International Trading Corporation.
TSB
RELATED STORIES
Idle funds in DTI firm total P33 billion, says COA
Gov't offices may be using DTI firm to avoid returning unspent funds – Drilon
Subscribe to our daily newsletter
Scams competed for attention with pandemic in Senate's busy 2020 have 2795 words, post on newsinfo.inquirer.net at December 28, 2020. This is cached page on Asean News. If you want remove this page, please contact us.