The Cabinet reshuffle in Singapore occurred on April 24, 2018.
For the first time, three female ministers got to be at the helm of three different ministries.
A momentous occasion
While this is a momentous occasion for female leadership in Singapore, the first-ever female Cabinet minister had it rougher back in 1991: Her political career was cut short, no thanks to a handshake at the wet market.
The short-lived legacy is all the more ignominious, considering the circumstances of the incident.
The undoing of a political office holder involved, of all things, a perceived slight and an unnecessary rehashing of the incident by her own party leadership.
From biochemist to Parliament
Seet Ai Mee, who is 75 in 2018, was a biochemist graduate who worked her way up to become the President of the Singapore Association for the Deaf.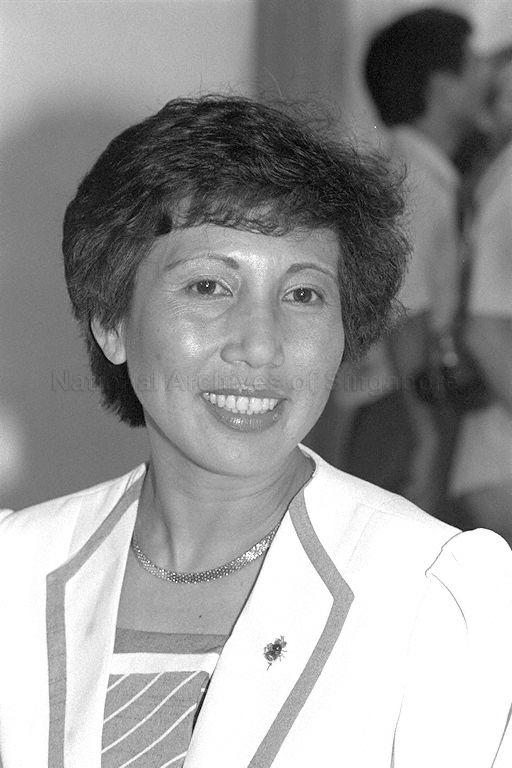 She entered politics in September 1988 as a Member of Parliament (MP) for Bukit Gombak.
In November 1988, Seet became the minister of state for education and community development.
Seet finally became a Cabinet minister in July 1991 with the role of acting minister for community development and sports, and was widely predicted to be the first full woman minister after the election.
Unfortunately, her time in Cabinet was short-lived as it only lasted until August 31, 1991, when she was not re-elected in the 1991 General Election.
During the election, Seet lost her parliamentary seat to the Singapore Democratic Party's Ling How Doong by 1.4 percent of the votes.
The loss of her parliamentary seat meant that Seet could no longer be a Cabinet minister.
The handshake that did it
According to various reports at that time, one of the contributing factors to Seet's 1991 loss was an incident that occurred during her previous election campaigning in 1988.
During a visit to a wet market in Bukit Gombak, Seet went to wash her hands immediately after shaking the hands of a stall owner.
Her opponent, Ling How Doong from the Singapore Democratic Party (SDP) attacked her for that hand-washing antic, saying she was elitist and out of touch with the Chinese-speaking residents.
While Seet won the 1988 General Election by a narrow margin, the hand-washing incident came back to haunt her again in 1991.
Story revived
However, how the hand-washing story from 1988 got revived was the result of her own PAP's defence of her.
During the 1991 General Election, then-Prime Minister Goh Chok Tong brought up the hand-washing incident at an election rally by saying:
"After shaking hands with a fishmonger, she washed her hands. But she has not done this since."
After Goh did that, Seet's supporters intuitively knew she was going to lose and were reportedly angry that the incident was brought up again.
Seet lost to Ling by 1.4 per cent of the votes.
Clearing the confusion
Post-election in 1991, a fellow volunteer, Tan Bee Bee wrote:
"I was there at the time and saw what happened. The fishmonger had rinsed his hand in a water container in front of him… He grinned, embarrassed, and said his hand was wet. Dr Seet smiled, told him not to worry and immediately gave him a firm handshake."

"After we met a butcher, she showed me an oily hand and mentioned that she needed to wash it in case she met a Muslim, as she could not in all conscience offer her hand when it was covered with pork grease."
[related_story]
Clarification 18 years later
Seet only clarified the issue some 18 years later in a 2009 party publication Petir . She said that it was a pork seller she shook hands with.
She also said she washed her hands because she was concerned she had pork grease on her hands and she might shake the hands of Muslim residents afterwards.
She also said Goh could have clarified with her before making those remarks at the rally.
"Did the press ask me why I washed my hands? No. Did the then Prime Minister ask me? No. Had both asked for an explanation, I would've told them. I didn't know about the issue until the PM spoke about it at the General Election rally."
Seet also acknowledged that the hand-washing incident was not the sole cause of her loss.
She said that Bukit Gombak voters were concerned about rising prices and cancelled bus routes.
Unfortunately, the misunderstanding was not clarified and led to her becoming, in her words, "political fodder".
After leaving politics, Seet went on to become, among other things, the founder chairman of the Dover Park Hospice Governing Council.
Top photo via NAS and Women's Action
S'pore's 1st-ever female Cabinet minister lasted just 2 months because of a handshake have 901 words, post on mothership.sg at March 25, 2021. This is cached page on Asean News. If you want remove this page, please contact us.