Ex-leaders of State-owned steel firms stand trial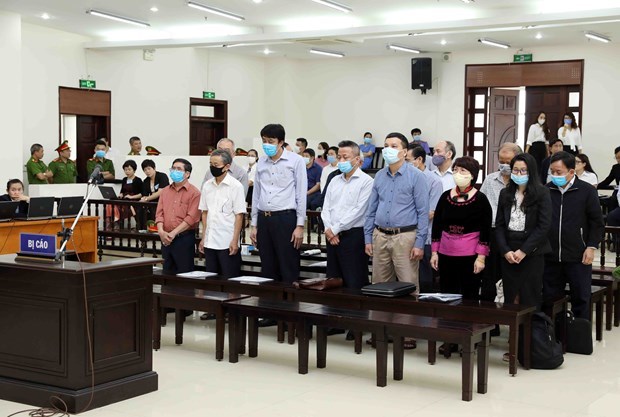 The defedants at the first-instance trial that opened on April 12
The first-instance trial, held by the Hanoi People's Court, is expected to last 10 days.
Fourteen defendants were charged with "violating regulations on the management and use of State assets, causing losses and wastefulness" under Clause 3 of Article 360 in the 2015 Penal Code.
They included Tran Trong Mung (born in 1949, former General Director of TISCO), Tran Van Kham (born in 1961, former Chairman of the Board of Directors and General Director of TISCO), Mai Van Tinh (born in 1952, former Chairman of the VNS Board of Directors), and Dau Van Hung (born in 1951, former General Director of VNS).
Two former members of the VNS Board of Directors and three former members of the TISCO Board of Directors were accused of "lacking sense of responsibility, causing serious consequences" under Clause 3 of Article 360 in the 2015 Penal Code.
According to the indictment issued by the Supreme People's Procuracy, the VNS Board of Directors decided the investment in the second-phase production expansion project of TISCO and TISCO was the investor of the project.
This project initially had total investment of more than 3.8 trillion VND (164.9 million USD at the current exchange rate). The China Metallurgical Group Corporation (MCC) won the construction bid in 2007.
On July 12, 2007, then TISCO General Director Tran Trong Mung and MCC General Director Shen Heting signed an engineering, procurement, and construction (EPC) contract worth over 160 million USD (equivalent to over 3.5 trillion VND). The value, including taxes and expenses necessary for contract implementation, was stipulated not to change during the implementation process.
TISCO and MCC launched the implementation on September 29, 2007. However, after more than 11 months since the contract took effect, MCC still failed to select or contract with subcontractors, or carry out the EPC contract. Instead, it proposed extending the contract implementation duration and raising the contract value by more than 138 million USD.
The indictment said that although the related individuals at TISCO and VNS were aware that MCC had infringed the contract and groundlessly proposed the implementation extension and value hike, they did not consider contract termination, revoke the advance, or report to competent persons to abolish the bidding result and re-organise the bidding process so as to ensure the project's effectiveness and progress.
Among the defendants, TISCO General Director Mung held the overall responsibility for the project's effectiveness while VNS Chairman Mai Van Tinh was in charge of approving and directing the project implementation.
The Supreme People's Procuracy held that the violations of rules on the management of State assets and the lack of sense of responsibility by those at TISCO and VNS have caused losses of over 830 billion VND to the State. The sum is the interest rate TISCO had to pay to banks for the period from the time the project began lagging behind schedule, on May 31, 2011, to the date an official investigation was launched, on April 18, 2019./.
HCM City to bolster administrative reforms
HCM City plans further administrative reforms as part of efforts to enhance its competitiveness and attract more investment under a new urban administration model, its People's Committee chairman has said.
Nguyễn Thành Phong told a meeting held to discuss urban administration that the new model, to be implemented from July under a National Assembly resolution, would streamline governance and resolve some major issues faced by the city.
It requires administrative decisions to be made by grassroots-level authorities, the public and enterprises in a timely, precise and organised manner, he said.
The model would help reduce the time taken to finalise socio-economic plans, he added.
The city began abolishing district and ward people's councils years ago to reduce duplication of responsibilities and tasks and reduce expenditure, and governance improved.
In a rapidly growing urban area like HCM City, district and ward people's councils are an intermediary authority with limited powers that slows down the process of governance.
Phong said the city would this year restart the elimination of people's councils, getting rid of them in 19 districts and 259 wards by around mid-year.
In November last year, the National Assembly passed a resolution on urban administration in HCM City that includes elimination of people's councils at district and ward levels.
It provides for the city People's Committee and People's Council, but at the district and ward levels there is only the former.
The organisation of other administrative units in the city is governed by the Law on Local Government Organisation.
Interestingly, Thủ Đức City in HCM City, formed by merging Districts 2, 9 and Thủ Đức, has a People's Council and People's Committee.
HCM City's job market shows signs of recovery
The labour market in Ho Chi Minh City showed signs of recovery in the first quarter of this year with more than 44,000 job positions on offer while nearly 19,500 others looked for jobs in the period.
The HCM City Human Resources Forecast and Labour Market Information (Falmi) Centre said the demand for human resources across sectors went up 13.14 percent year-on-year.
The highest demand for labour was seen in services with 70.38 percent of total vacant jobs, followed by industry (29.51 percent) and agriculture (0.11 percent). Notably, such sectors as processing and manufacturing, retail and wholesale, motor vehicle maintenance and repair, construction, education and training, and information and communications were the most desperate for workforce.
The centre said the demand for trained labourers made up 85.72 percent, including 22.19 percent of university graduates or holders of higher education degrees, mostly in finance-banking, IT, architecture, electricity, marketing, management and health care.
Meanwhile, the need for untrained workers accounted for 14.28 percent of the total demand, mainly in chemicals, garment-textile, business-trade, printing, tourism, and lodging and catering services.
Falmi said despite the impact of the COVID-19 pandemic, many socio-economic indicators have shown good growth on a yearly basis. Therefore, many enterprises have drawn up recruitment plans to realise their new business strategies./.
National Online Book Festival launched
The 2021 National Online Book Festival will be held from April 17 to May 15 with a variety of activities nationwide in response to Vietnam Book Day (April 21).
In preparation for the festival, all technological platforms have been readied to serve readers. Numerous exchange activities and forums will take place on book365.vn.
This is the second year the National Online Book Festival is held with the message "Bringing books to everywhere".
The National Online Book Festival is expected to serve over 60% of readers in many localities outside Hanoi and Ho Chi Minh City.
The organising board also aims to attract over 100 publishing houses and units around the country and have a minimum of 10 million hits as well as 10,000 book titles for sale and over 30,000 books for readers.
Three more imported COVID-19 cases confirmed on April 12 morning
Vietnam recorded three new COVID-19 cases in the past 12 hours to 6am on April 12, lifting the national tally to 2,696, the Ministry of Health (MoH) said.
All the new infections are imported cases and have been quarantined since their arrival in the country.
According to the MoH's Medical Service Administration, 2,429 patients have been successfully cured as of April 10, while the death toll remained at 35.
Among active patients undergoing treatment at medical establishments nationwide, 22 tested negative to coronavirus SARS-CoV-2 once, 11 twice and 17 others thrice.
The ministry reported that an additional 6,005 people were given COVID-19 vaccinations from April 5-11, bringing the total number of vaccinated people to 58,418.
To live safely with the pandemic, the MoH advised people to continue preventive measures, including the "5K message" (in Vietnamese) – Khau trang (facemask) – (Khu khuan) disinfection – (Khoang cach) distance – (Khong tu tap) no gathering – (Khai bao y te) health declaration./.
Do Son to pilot coastal pedestrian street
Do Son District authorities in Hai Phong City are planning to pilot a pedestrian street along the beach along with various events on the coming Reunification Holiday.
It is also a part of the tourism festival under the title Do Son-The Colour of The Sea 2021.
Hoang Xuan Minh, chairman of Do Son District People's Committee, said there would be six main events for this year tourism festival including female beach volleyball, coastal pedestrian street, Do Son-The Colour of The Sea 2021 music show, vintage car parade, EDM show and ground-breaking ceremony of the road connecting the coastal street with Van Bun intersection.
The vintage car parade is one of the highlights of the festival. Members of car and motorbike clubs in Hai Phong and nearby provinces will bring their cars to the parade which will be held on May 1 at May 15 Square. Well-known singers like Ho Quynh Huong, Bao Tram and Dinh Quang Hat will join the Do Son -The Colour of The Sea 2021 music show.
According to Do Son authorities, they have rearranged the services in tourist areas and cleared the pavements to ensure a nicer urban landscape.
The buoy water park was asked to close temporarily for a beach cleaning on April 23.
The pilot coastal pedestrian street will be opened on the weekends and holidays. The 700m street will run along Van Huong Street.
Central hospital recognised for outstanding expertise
A hospital in the central province of Nghệ An has been recognised as having the highest level of expertise in medical examination and treatment in the north-central region.
A recognition ceremony was held for the Nghệ An Friendship General Hospital yesterday.
In attendance were National Assembly Chairman Vương Đình Huệ, Minister of Health Nguyễn Thanh Long, and representatives from other hospitals in the region.
Speaking at the event, Long said the achievement was the result of tireless efforts from the hospital's board of directors, doctors, nurses and staff.
"The hospital becoming the best hospital in the north-central region plays a vital role in developing the local and regional health sectors," he said.
"The quality of medical examination and treatment will be greatly improved in Nghệ An Province, which will ease overloading at other hospitals and provide better healthcare for residents in the province, in other provinces, and even in Laos."
Lond added that he hoped the hospital would continue its success and improve its services to become a special-class hospital in the next five years.
"The Ministry of Health pays special attention to residents in the northwest, north-central, south-central, Central Highlands and southwest regions, where access to quality healthcare is still difficult.
"With this achievement, the hospital will help improve healthcare services in the north-central region, and also maximise its potential and strengths in taking care of residents' health," he said.
Four high-end ventilators were given to the hospital on the same day by NA Chairman Huệ and Minister of Health Long.
The Nghệ An Friendship General Hospital, formerly known as the Vinh Hospital, was founded on September 18, 1918. It was recognised as a first-class hospital in February 2009.
Education Ministry officially approves online training
According to a new circular issued by the ministry, heads of the schools can decide on whether to organise online classes to support or replace school classrooms when students cannot go to schools due to a force majeure event or circumstance.
"Online classes should ensure quality regarding syllabus, teachers and devices. The ministry will conduct regular checks, tests, and assessment," the circular said.
Many schools nationwide have recently organised online learning following the lock-downs due to COVID-19 outbreaks. However, most schools were not well-prepared for these types of classes.
With this circular, schools will have directions to offer better quality online training.
Kites show off their beauty in Ho Chi Minh City's skies
Most days in April in Ho Chi Minh City are sunny and breezy, which is perfect for flying kites, and city dwellers don't miss the chance to take their mind away from the hustle and bustle of life in the metropolis.
Flying kites, a traditional game for generations of Vietnamese, lost its position to video games and social networks some years ago but has regained popularity among many youngsters in recent times.
More kite flying areas have now popped up around Ho Chi Minh City, such as under Thu Thiem Bridge and at Vinhomes – Landmark 81 Park and the Phu My Hung urban area in District 7, among others. People can look skywards and find peace and tranquillity amid the hustle and bustle of the southern economic hub.
Kite flying season often begins after the lunar new year (Tet) holiday and lasts until June. The most wonderful time is March and April, as the weather is both sunny and breezy.
Project approved to boost growth of agricultural biotech industry
The Prime Minister has approved a project on developing the agricultural biotechnology industry to 2030 with the aim of optimising the country's potential in researching, applying, and mastering advanced biotechnologies in the agricultural sector.
Vietnam is expected to master a number of new-generation biotechnologies by 2030 under the project, producing highly-applicable products and raising the number of biotechnology firms in the agro-forestry-fisheries sector by 30 percent compared to the 2021-2025 period.
By 2030, Vietnam's agricultural biotechnology industry is hoped to be at the same level of development as those in leading countries in the region and the world.
The project will support biotechnology firms and science-technology and technology transfer organisations, while strengthening personnel training in the field.
To this end, it defines six missions and five solutions, including the building and development of a legal system as well as mechanisms and policies to promote the growth of the biotechnology industry, increase international cooperation in the field, and strengthen communications to raise public awareness about the agricultural biotechnology industry.
In particular, biotechnology businesses will be developed to produce agricultural products at industrial scale to promote safe and organic farming, along with bioproducts serving the processing and storing of farm produce, and vaccines and medicines for aquatic farming and breeding.
Programme calls for support to poor students nationwide
A programme called "Dieu uoc cho em" (Wishes for children) was launched on April 11 to call for resources to support the development of education in extremely difficult areas.
The programme is a joint effort of the Ministry of Education and Training, the Ho Chi Minh Communist Youth Union's Central Committee, and the Vietnam Red Cross Society, with an agreement signed the same day.
Addressing the launching ceremony, Deputy Prime Minister Vu Duc Dam said that in many areas across the country, children are facing poor living and studying conditions.
He hoped that the community will join hands to take care of children, stressing that the programme is expected to have the engagement of Party organisations, administrations in localities, organisations and businesses, thus providing poor students with nutritious meals and stable schools with playgrounds and hygienic toilets.
Donors can respond to the programme through the national humanity portal at http://inhandao.vn/Điều ước cho em.
Currently, nearly 2,000 schools in 39 cities and provinces have registered to receive support in the portal, while 5,000 schools have given their specific needs.
Many domestic and foreign businesses have committed to supporting the building of schools and toilets, and provide lunch to 30,000 students as well as scholarships to poor students with total value of 127 billion VND (5.51 million USD).
Quang Tri safely handles nearly 500 billets, explosives
A bomb and mine clearing team in the central province of Quang Tri has found nearly 500 billets and unexploded ordnances (UXOs) left from the war in Vinh Linh district's Vinh Tu commune.
The bomb and mining clearing team of NPA/RENEW – a cooperative programme between Quang Tri and foreign NGOs, and Norwegian People's Aid (NPA) to restore the environment and address the consequences of war, discovered an ammunition depot with a total of 495 bullets and explosives of all kinds in an acacia forest in Huynh Cong Tay village.
This ammunition depot is almost intact, with many bullets still have detonators and pose a danger to local people.
All of these bullets and explosives were removed safely by the team.
Quang Tri is striving to, by 2025, become the first province in Vietnam to be safe from UXOs left over by the war.
Measures needed to reduce traffic accidents, fatalities: Official
Despite traffic safety improvements and a drop in the number of accidents overall, the amount of fatal road collisions remains high.
Deputy Prime Minister Truong Hoa Binh, who is Chairman of the National Committee for Traffic Safety, revealed the information at an online conference on April 9.
Binh said traffic statistics from the first three months of the year did show a reduction in accidents, but this was mainly due to less vehicles on the road because of the Tet holiday and social distancing measures in a number of localities.
But he warned that despite the drop in accidents in general, many lives were still lost on the roads and overloading, plus traffic congestion, remained a concern.
Minister of Transport Nguyen Van The said one of the reasons roads were getting busier was because of the large amount of new vehicles being registered, which he estimated at around 500,000 each year.
With such an increase in cars, over the next five to seven years, the level of congestion will be very large if we do not have radical solutions right now, he said.
Vietnam recorded 3,206 traffic accidents in the first three months this year, killing 1,672 people and injuring 2,386 others. The number of accidents and injured people decreased by 263 and 183 respectively compared with the same period last year but the number of fatalities increased by 33, according to the National Committee for Traffic Safety.
Speaking at the conference, Deputy Minister of Public Security Nguyen Duy Ngoc proposed several measures to improve traffic safety and order.
Ngoc said that as Vietnam was on economic development mission, transport infrastructure improvements were crucial.
He suggested that provincial and municipal traffic safety committees must learn from experience what has been done well and what improvements were needed.
He added that although the country still has many accident black spots, improvements had been made to about 20 percent of them.
The Ministry of Public Security will direct traffic safety campaigns to educate motorists.
It will also strengthen coordination between police, prosecutors and the courts to ensure strict punishments for those who violate traffic laws.
"For illegal racing, we will assign provincial and municipal police and the court to open trials in public to create a strong deterrence," said Ngoc.
Finally, the Ministry of Transport and traffic safety committees will be asked to review all recommendations and prioritise those that need to be done first.
Lao students celebrate Bunpimay Festival in Vietnam
More than 400 Lao students studying in the central province of Thua Thien-Hue gathered on April 10 night to celebrate Bunpimay, the traditional New Year Festival of Laos.
The Bunpimay festival is observed from April 14-16 annually to pray for good weather, health, abundant harvests and prosperity.
At the event, participants practiced traditional rituals of the festival, including Buddha statue bathing and thread tying.
Phimmachanh Luckyjane, a second-year student of the College of Economics under the Hue University said that the event made he feel like at home. Phimmachanh thanked leaders of the university and authorities of Thua Thien Hue for supporting them in both study and life.
According to Tran Cong Phu, Director of the provincial Department of External Relations, said that over the years, the province has strengthened cooperation with Lao localities in all fields, especially education and training.
Each year, Thua Thien-Hue provides 10 scholarships to Lao students. Since 2002, the province has received 1,200 Lao students, more than a half of them have graduated.
Meanwhile, the northern province of Thai Nguyen also held a get-together to celebrate the Lao traditional New Year, which drew representatives from the Lao Embassy in Vietnam, local authorities and more than 250 Lao students in the locality.
This year, due to the COVID-19 pandemic, many Lao and Cambodian students are not able to return home for this special occasion. The event showed Thai Nguyen's attention to the students.
Currently, 1,800 Lao and Cambodian students are studying at 11 universities and colleges in Thai Nguyen.
RoK further stimulates tourism in Vietnam
The Korean Tourism Organisation (KTO) in Vietnam has stepped up tourism promotion activities to prepare for its reopening to international visitors in the context that COVID-19 vaccination campaigns have been deployed in many countries, including the Republic of Korea (RoK) and Vietnam.
The promotions have been carried out through many activities and digital platforms, including an online travel photo contest, and cultural promotion and tourism stimulation events such as "Korean Culture Days 2021 in Quang Nam" in Hoi An ancient city from April 10-11.
KTO Chief Representative in Vietnam Park Jong-sun said he hoped these cultural events will contribute to increasing the interest and love of Vietnamese people for Korean tourism in particular and the RoK in general.
The RoK has been carefully preparing to welcome Vietnamese tourists and international friends as soon as the COVID-19 pandemic is kept under control, he added.
NA Chairman pays working trip to central Nghe An province
National Assembly Chairman Vuong Dinh Hue attended a ceremony in central Nghe An province on April 11 where the Ministry of Health handed over a decision recognising the Nghe An General Friendship Hospital as an end-line hospital in medical checkup and treatment in the north central region.
Handing over the decision to the hospital, Minister of Health Nguyen Thanh Long said that as a tertiary referral hospital providing health check-up and treatment services, the Nghe An General Friendship Hospital will play a stronger role in the development of the health sector of Nghe An province in particular and the whole north central region in general.
Long expressed his hope that the quality of services provided by the hospital will continue to be improved, dealing with the overload and better meeting the demand of residents in Nghe An as well as neighbouring provinces and Laos
With the support of central hospitals, the 100-year-old Nghe An General Friendship Hospital has succeeded to master 90 percent of high medical techniques practiced in central hospitals to treat difficult and complicated cases.
Stressing that the health sector is striving to enhance medical services for people and ensuring a fair, high-quality and effective system, Long said that the ministry has paid special attention to facilitating poor people's access to medical services in the northwestern, northern central, south central, Central Highlands and southwestern regions.
The recognition of the Nghe An General Friendship Hospital as an end-line hospital aims to realise this goal, he added.
Founded on September 18, 1918, the hospital is the biggest of its kind in Nghe An with 58 faculties and nearly 1,800 staff members.
On the occasion, NA Chairman Vuong Dinh Hue presented two ventilators to the hospital, while Minister Nguyen Thanh Long also handed over two others to the facility.
Earlier on April 10, the NA leader paid tribute to President Ho Chi Minh at the Kim Lien Special National Relic Site in Nam Dan district of Nghe An province.
Ca Mau focuses on development of skilled workforce
The southernmost province of Ca Mau is planning to train 140,000 skilled workers in the 2011-2015 period in order to meet the requirements of the fourth Industrial Revolution.
According to the provincial Department of Labour, Invalids and Social Affairs, an average of 38,000 local workers are provided with jobs every year.
A wide range of measures and policies have been implemented to support workers in seeking employment.
Links between employees and employers have been promoted through different channels, such as the internet, conferences, and job transaction sessions.
Deputy Director of the provincial Department of Labour, Invalids and Social Affairs, Tu Hoang An, said local authorities have focused on generating jobs for local workers through labour export activities.
This is an important solution that helps the locality realise its target of sustainable poverty reduction, he noted.
The positive results in job creation in Ca Mau can be attributed to the efforts of relevant agencies and those operating in vocational training and job introduction.
Ca Mau's population stands at nearly 1.2 million people, including 690,000 workers aged 15 and over. Local workers are mainly self-apprentices or self-employed, using the available resources of their families.
As of the beginning of 2021, the rate of trained workers in Ca Mau was over 50 percent.
Director of the provincial Department of Labour, Invalids and Social Affairs Nguyen Quoc Thanh said the locality will continue to invest in expanding the scale of the Vietnam-Korea Vocational School, to properly conduct training to meet requirements in each field, with priority given to key occupations and those serving the province's priority economic sectors.
Efforts also aim to satisfy the recruitment demand of businesses amid the fourth Industrial Revolution, Thanh said.
Attention has been also paid to promoting training and the development of the local workforce, and attracting outside workers to meet the locality's development demand, he added.
Thanh said provincial authorities have proposed the Government soon issue new policies relating to training support for workers from policy beneficiary families and ethnic minority groups, demobilised soldiers, people with disabilities, and rural workers.
Romanian media optimistic about stronger bilateral relations with Vietnam
Romanian media have reported that the Vietnamese National Assembly had successfully consolidated key leadership positions, and showed their hope Vietnam-Romania cooperative ties would develop to a new height in the future.
Major news and press agencies such as Agerpres, Romaniatv.net, Republicatv.ro, Proarges.ro, Digi24.ro, and Stirileprotv.ro simultaneously reported the event that the Vietnamese NA approved senior leadership positions, who are expected to inherit impressive achievements of Vietnam in the past term and create new development steps, including further promoting the good tradition of the Vietnam – Romania friendship.
Under the timely and close leadership and direction of the Party and State, along with the drastic direction of the Government, Vietnam overcame three waves of COVID-19 pandemic outbreaks, bringing the Vietnamese economy to become one of the economies that has stably developed, not severely affected by the pandemic, and reaching a growth rate of 2.91 percent by 2020.
The Romanian media said that at the beginning of the 2016-2021 government term, the size of the Vietnamese economy ranked 48th, but Vietnam's ranking has increased 11 places to 37th in the world.
Vietnam is expected to join the group of developed countries with high income in 2045, the Romanian media stressed.
Vietnam's participation in international trade agreements, especially the Comprehensive and Progressive Agreement for Trans-Pacific Partnership (CPTPP) and the European Union-Vietnam Free Trade Agreement (EVFTA) , and its role as ASEAN Chair in 2020, and a non-permanent member of the UN Security Council at present are the hallmarks proving the integration, prestige and responsibility of Vietnam in the international arena.
The news outlets also spotlighted the fruitful development of the traditional friendship and multifaceted cooperation between Vietnam and Romania over the last seven decades.
Vietnam is one of Romania's major economic partners in Asia and a leading trade partner of the European country in Southeast Asia, they said, adding that these are a foundation for stronger development of the bilateral cooperative relations in the coming time.
Russian expert highlights Vietnam's role in Eurasian integration processes
Russian's e-newspaper Infox.ru has run an article written by Grigory Trofimchuk, Chairman of the Expert Council of the Foundation for the Support of Scientific Research "Workshop of Eurasian Ideas," highlighting the role of Vietnam in the Eurasian integration processes.
In the article, the author wrote that the great role and potential of Vietnam in the field have yet to be fully evaluated and optimised.
Vietnam is currently at the centre of the global economy, he noted, adding that Vietnam is one of the leading countries in the ASEAN and is reinforcing its position by specific economic indicators.
Right amid the adverse impacts of the COVID-19 pandemic, Vietnam still posted GDP growth of 2.91 percent in 2020, which may reach 7.1 percent in 2021 as predicted by the United Oversea Bank, making it one of the fastest growing countries in the Asia-Pacific region, the author said.
He also cited prestigious sources as saying that Vietnam is among the 40 largest economies in the world and the fourth in the Association of Southeast Asian Nations (ASEAN). The country is also one of the 10 fastest growing countries in the world and among 16 most successful newly-emerging economies in the globe.
The expert asserted that Vietnam has shown the world that free trade has overcome all artificial barriers and restrictions.
A stable and secure investment environment, guaranteed by the government of Vietnam, is one of the most reliable political foundations in the world for the implementation of large-scale and long-term economic activities, he wrote.
Trofimchuk held that Vietnam will continue to grow in the next 10 years, and the successes in trade and economic cooperation between Vietnam and the Eurasian Economic Union (EAEU) have encouraged other ASEAN countries to become more actively involved in the integration processes in the Eurasian space.
Vietnam wins gold at Asia Pacific Mechatronics Skills Competition
Two Vietnamese contestants participating in the Asia Pacific Mechatronics Skills Competition have won a gold medal during the event held on April 8 in an online format.
The pair successfully surpassed a number of strong regional rivals at the competition, including those from the Republic of Korea, Japan, and Singapore, in order to bring home the gold medal.
After achieving this outstanding result, the Vietnamese team will now have the chance to compete at the WorldSkills Competition which is scheduled to take place in Shanghai, China, in 2022.
Livelihood support programme benefits landmine victims in Quang Ngai
A programme to provide livelihoods, free medical check-ups and medicines for victims of landmines and unexploded ordnances (UXOs) left from the war was held in the central province of Quang Ngai on April 11.
Jointly organised by the Vietnam Association for Supporting UXO/Mine Action Efforts (VNASMA), its chapter in Quang Ngai, the Peace Foundation and the Ho Chi Minh City University of Medicine and Pharmacy, the programme also aimed to raise public awareness of preventing post-war bomb and mine accidents in Quang Ngai.
At the event, about 500 people who are victims of Agent Orange (AO)/dioxin and landmines and UXO accidents, and poor patients in Nghia Hanh and Ba To districts were given free medical check-ups and medicines.
Twenty poor households in the districts were also presented with cows worth 12 million VND (around 521 USD) each, while 20 other families with difficult circumstances were provided with 15 million VND each to help them repair their houses.
Meanwhile, 40 bicycles, worth 2 million VND each, were given to needy students who show good performance in their study.
VNASMA Chairman Nguyen Duc Soat said after seven years of operation, the association has supported many victims of landmine/UXO accidents, helping them escape from poverty and improve their incomes.
Quang Ngai is one of the localities that are heavily suffering post-war bomb and mine pollution. Statistics show that the province has over 20 percent of natural land contaminated with over 17,500 tonnes of post-war bombs, mines and UXOs left in the ground, lakes, and coastal areas.
Since 1975, Quang Ngai has recorded nearly 2,300 victims of post-war landmine and UXO accidents, including nearly 1,600 injured people. Most of the victims become a burden to their families, so they really need assistance to overcome difficulties.
COVID-19 vaccination for national football team to be postponed
Plans to vaccinate players of the national football team against the SARS-CoV-2 virus have been delayed following the conclusion of domestic V.League fixtures on April 18, according to an announcement made by the Vietnam Football Federation (VFF).
These changes have been made to better suit the schedule of those participating in the games in the V.League 1 and V.League 2. Matches will be temporarily paused after April 18, as the players have few days off before returning to compete in the National Football Cup 2021 from April 23.
National team players had originally been scheduled to be vaccinated on April 8, 9, 13, and 17, but now the schedule has been changed for inoculations to take place after April 18.
Meanwhile, chief coach Park Hang-seo and his assistants got the first vaccine shot on April 5.
Thirty-four players are due to gather in mid-May for a training camp before they fly to the United Arab Emirates (UAE) on May 31 in the lead-up to the World Cup 2022 qualifiers, Asian region.
Vietnam are scheduled to take on Indonesia on June 7, Malaysia on June 11, and hosts the UAE on June 15.
Project promotes development of climate change-resilient green cities
Funded by the Global Environment Fund (GEF) and the ADB, the project will be implemented nationwide over five years and focus on updating and making adjustments to the Green City Action Plan (GCAP), improving environmental quality, and increasing resilience to climate change in master urban environmental plans for Ha Giang city in northern mountainous Ha Giang province, Hue city in the central province of Thua Thien-Hue, and Vinh Yen city in the northern province of Vinh Phuc.
After assessing the results of the green and smart city action plan in these cities, similar plans will be outlined for six other secondary cities.
Deputy Minister of Natural Resources and Environment Vo Tuan Nhan, who is also deputy head of the steering committee for the project, said this is an important and urgent undertaking.
He emphasised the need to have more regulations for promoting green lifestyles and production, sustainable consumption, and improvements to urban environment quality towards climate change adaptation in the national legal and policy systems.
At the workshop, experts and representatives from localities discussed and proposed measures relating to amendments to old urban plans, and updated others on green city action plans for six other secondary cities.
Last hospital field in Vietnam's Covid-19 epicentre closed
The last field hospital for Covid-19 patients in the northern province of Hai Duong has been officially closed after finishing its tasks.
The hospital was upgraded from a workshop area of Sao Do University's vocational training centre in Chi Linh City. The hospital, which started operation from February 26, provided treatment for 193 Covid-19 patients.
To date, only 21 among the patients remain. They have been sent to the Hai Duong Hospital for Tropical Diseases for further treatment.
Earlier, due to the Covid-19 outbreak in Hai Duong, three field hospitals were built in the locality. They are now all shut and no Covid-19 patients at the hospitals have died.
By Wednesdays, the province had 726 Covid-19 cases, including 685 discharged from hospital. At present, only four among a total of 17,561 people who had close contact with Coviod-19 cases are still being quarantined.
Deforestation past continuing to haunt erosion-hit areas
More work is required to deal with poor soil conditions and erosion in the central coastal province of Thua Thien-Hue after an environmental scientist made a fact-finding mission last month.
Dr. Greg Nagle took several eye-opening photographs during his March 21 trip near the National Road No.49 between A Luoi and Hong Ha areas. "I think that this is unusually erosive terrain here," commented Dr. Nagle, adding that "most often, the worst erosion comes from logging and roads changing hill slope hydrology."
However, some of the visible erosion in the area could also be the result of deforestation by Agent Orange over 50 years ago, or by bombs as there are also landslides in some areas which were not directly impacted by roads or logging, he added.
Although the war ended nearly half a century ago, the footprints of the war in some of Vietnam's areas remain visible today. The rural district of A Luoi was one of the places that saw some of the heaviest fighting and bombing. The area around the infamous Hamburger Hill was the theatre of massive US bombing with the A Luoi valley hit with spray runs with Agent Blue, Agent White, and Agent Orange, as research by David Biggs portrayed.
However, the war is not the only reason for deforestation in Vietnam and wider Southeast Asia, which saw its forest cover fall from 66 to 49 per cent between 1960 and 1990, as research by Rodolphe De Koninck pointed out. As Vietnam was the country that lost most of its forest cover during this period, social and economic consequences for farmers greatly increased as they tried to support their livelihoods.
Other studies have shown that deforestation in Southeast Asia has not occurred because of a single factor, but instead a host of economic and ecological causes.
For instance in 2000, Vietnam started a massive programme around the country to grow hybrid Acacia mangium, an evergreen fast-growing tropical tree which is now one of the country's main exports for wood for chips and in the manufacturing of furniture, offering a serious cash flow for remote mountain communities. "These trees are grown in about five years and are small enough to be mostly harvested and moved by hand in many places," explained Nagle.
However, some scientists have pointed out that inappropriate management practices can cause soil erosion in the area. "A number of current practices have the potential to degrade these sites in several ways," said Sadanandan E.K. Nambiar from the The Commonwealth Scientific and Industrial Research Organisation in a paper with two other scientists. They also argued that a "number of current practices have the potential to degrade these sites in several ways."
After harvest, tops and branches may be removed for fuel and the remaining biomass burned, which exposes the soil. Together with bulldozing and windrowing operations, the bare soil surface is exposed to rains, leading to serious soil erosion.
Nagle explained, "Some of what we are seeing here is serious soil damage with a loss in long-term productivity." Forestry cannot be sustained with such damage, he added. "This is some of the worst forestry-related erosion I have ever seen anywhere in the world, although there were places as bad as this on very erosive soils in the Redwood region of northern California which were logged in the 1950s-1970s."
Although there is a multitude of reasons for the area's soil erosion and not a single action or entity to blame for, the pictures taken a fortnight ago show that the soil condition poses serious challenges to the local populace and economy.
Local media reported last October and November that several national highways in Central Vietnam were ravaged by landslides, which also destroyed parts of the National Road No.49 running through Thua Thien-Hue.
In an interview in November, Trinh Xuan Hoa, deputy head of the Vietnam Institute of Geosciences and Mineral Resources under the Ministry of Natural Resources and Environment, argued that deforestation and construction projects among many other factors were the cause of the landslides in the region. "Human activities including deforestation and road construction have hastened geological changes in the area," he explained.
More than VND2 billion to help improve children's reading culture
A new library that is "excellent in facilities and book categories", according to the regulations of the Ministry of Education and Training for school libraries, was inaugurated and handed over to the Ngo Quyen Primary School, Binh Tan District, Ho Chi Minh City, on April 9.
This is the result of the project "Developing libraries and reading culture at Ngo Quyen Primary School", which is being implemented from 2020-2021 with the aim of improving the quality of education through improving the quality of the library.
With a budget of more than VND2 billion, the project is supported by KB Securities Vietnam Joint Stock Company (KBS) through two organisations: ChildFund Korea and ActionAid Vietnam (AAV).
The new library covers an area of 120 square metres, with nearly 16,400 books of all kinds, such as: textbooks, professional books, reference books, and children's books. It is equipped with computers, which have been installed with book management software and a modern library operating system allowing up to 90 students to read at the same time.
The project also organises a book festival programme, along with many activities such as introducing books, reading and storytelling competitions about books, visiting the library, to promote reading culture, with the participation of nearly 500 children.
Binh Tan is a densely populated district of Ho Chi Minh City, with about 790,000 people as of 2020. Of these, about 60% are immigrants. Despite a lot of investment, the public education service delivery system in Binh Tan has not kept up with the pressure of the large number of immigrants.
Located in the heart of Vinh Loc Industrial Park, Ngo Quyen Primary School is one of the schools with the greatest pressure from immigrants, with about 3,500 students in 2018-2019, of which 50% are migrant children. The current number of students at the school is 50 students per class, much higher than the regulations. In the 2019 – 2020 school year, the school has more than 4,000 students.
Exhausted after strike drama, Quang Ninh thumped by Hanoi FC
Than Quảng Ninh's players won a partial victory on Saturday off the pitch, but were unable to triumph at Hàng Đẫy Stadium on Sunday night.
The away side were comfortably beaten by a resurgent Hà Nội FC by a score of four goals to nil, but the bigger result was securing a portion of the money they're owed by the club on Saturday.
Quảng Ninh managed to scrape together some of the VNĐ90 billion (US$3.9 million) they reportedly owe their long-suffering players after a pair of dramatic meetings in recent days, though it took threats to down tools again after refusing to train in early April to even secure that.
The Quảng Ninh Province side have been the league's surprise package this year, somehow rising to the top of the V.League 1 table at one point last week contrary to all predictions that they would struggle due to their dire financial situation.
However the trip to Hà Nội was a bridge too far for captain Nguyễn Hải Huy et al and they were easily beaten by the home side, with the drama off the pitch perhaps sapping their energy and contributing to the four first-half goals.
As for Hà Nội, they will be cheered by a return to winning ways, with the performance of star midfielder Nguyễn Quang Hải most encouraging, as the left-footed playmaker scored one goal and assisted another.
That assist came just a minute into the match as Hải whipped a free-kick in from the right-hand side which Ngân Văn Đại steered into the back of the net with his head.
The lead was doubled 16 minutes later when a ruthless Hà Nội counter-attack ended up with Hải one on one with goalkeeper Nguyễn Hoài Anh, and he duly applied a cool left-footed finish.
The game was effectively ended as a contest in the 22nd minute when Hà Nội fullback Lê Văn Xuân fired in a gorgeous long-range shot that skipped just above the ground and nestled into the bottom corner. Xuân has been superb amid Hà Nội's struggles in recent weeks and fully deserved his goal.
With half-time approaching Quảng Ninh may have thought a respite was coming, but there was time for a fourth goal in added time via a clanger from Anh, who came out of his area to clear a long ball, but completely missed ball and man, providing Geovane Magno with the simplest of finishes.
To their credit, Quảng Ninh didn't let their heads drop and kept coming at Hà Nội in the second period and created a couple of half-chances, but they never looked like getting back into the game.
The result puts Hà Nội back into the top six in fifth position on 13 points, while Quảng Ninh are third on 18 points.
Bac Giang taps biotechnology in socio-economic development
The northern province of Bắc Giang will promote the application of biotechnology and new material technologies to serve socio-economic development, according to the director of the provincial science and technology department Nguyễn Thanh Bình.
Located in the northern key economic zone and adjacent to major centres such as Hà Nội, Hải Phòng City, and Quảng Ninh Province, Bắc Giang boasts favourable conditions for economic development.
A particular focus of biotechnology and new material technologies are the fields of breeding, preserving, and processing agricultural and forestry products, especially key products such as lychee, Yên Thế free-range chicken, Yên Dũng fragrant rice, Lạng Giang mushrooms, Tân Yên peanuts, Hiệp Hoà grapefruit, and Sơn Động honey; the treatment of waste and wastewater in industrial zones and clusters and trade villages; and health and medical surveillance technology.
The province is also stepping up the application of advanced materials and fuel-saving and environmentally-friendly technologies in production and daily life.
It prioritises developing science and technology, especially biotechnology and new material technologies, supporting the establishment of and improvements to the operational efficiency of science and technology enterprises, innovative enterprises, and start-ups in the fields of information technology, biotechnology, and new material technologies.
Meanwhile, the provincial centre for science and technology application will form an experimental area and conduct research and application and transfer biotechnology and new material technologies.
Over recent years, the strong application of biotechnology has had a positive impact on the province. Its Department of Science and Technology has deployed 91 national and provincial level projects to date in the field of biotechnology, which have been applied to develop high-yield, good-quality crops and animals and contributed to economic restructuring, improving the quality, commercial value, and competitive edge of local agricultural products. By way of example, the breeding and development of new fruit trees such as V2 orange, ODL guava, MC17 and Choquete avocado, late ripe longan, and early thiều litchi have yielded hundreds of billions of đồng a year.
Bac Giang has also applied VietGAP and GlobalGAP standards in cultivation at 39 per cent of orchards and used QR Codes for tracing product origin, together with the iMetos smart weather station, the VietGAP app, and drip irrigation technology.
The province has recently expanded its VietGAP-standard lychee coverage to 14,300 ha and its Global GAP-standard coverage to 258 ha. It also has 218 ha of lychee with cultivation codes granted for export to the US, Australia, and the EU.
Using drip irrigation technology, biological fertilisers, and pesticides, and following VietGAP standards, a tea production model in Yen The District has recorded a 20-30 per cent increase on an annual basis in productivity and revenue. The success of the model helped expand the district's tea growing area to 530 ha, with a combined output of over 4,300 tonnes a year.
Many local enterprises have applied biotechnology in pollution treatment and environmental pollution recovery. The application of biotechnology in socio-economic development contributed to economic growth in the province averaging 14 per cent per year in the 2015-2020 period. It currently has more than 160 enterprises and household businesses operating in the production of building materials applying new material technologies, including the production of unfired bricks.
The province has received and transferred technology from many projects to produce plywood using new technology.
In the field of medicine, new material technologies have also made a positive contribution to local medical examinations and treatment, such as the application of nanopolymer in medicine and nanomaterials in biomedicine. Their application has also contributed to medical examinations and treatment of local people.
Bắc Giang implemented 74 national and provincial science and technology projects in various fields during the 2015-2020 period, with total funding of over VNĐ222 billion.
Nearly 2,000 entries submitted to Vietnam's national press awards
The 15th National Press Awards has received 1,823 entries from 114 media agencies around the country, announced the awards' jury council.
The jury council for the preliminary judgment consisted of 69 members who were divided into groups of prizes with 11 categories.
The entries must highlight the country's achievements and discover outstanding examples who have made great contributions to national renewal and development; as well as feature the difficulties and limitations of social life and the spirit of fighting against corruption and waste.
The winners are expected to be announced at an awards ceremony on the occasion of Vietnam's Revolutionary Press Day (June 21).
Source: VNA/VNS/VOV/VIR/SGT/Nhan Dan/Hanoitimes
VIETNAM NEWS HEADLINES APRIL 12 have 8142 words, post on vietnamnet.vn at April 12, 2021. This is cached page on Asean News. If you want remove this page, please contact us.