Over 1 million tonnes of goods channelled through Quang Ninh's Mong Cai border gate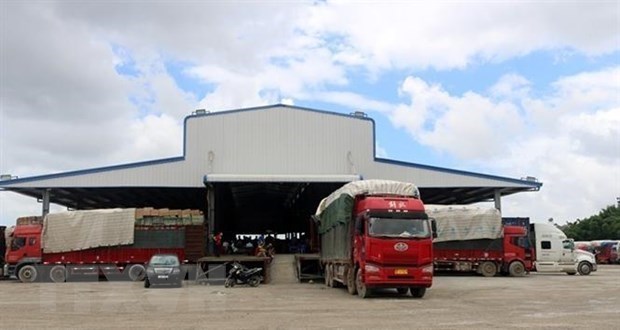 A site for goods examination of the Mong Cai International Border Gate in Mong Cai city, Quang Ninh province.
Despite serious impacts from the COVID-19 pandemic, border trade activities in Mong Cai city of northern Quang Ninh province, which borders China, have been well maintained with a surge in the volume of import and export goods compared to the figure in 2020.
According to the Mong Cai International Border Gate Management Board, as of July 18, the total volume of commodities imported and exported through the border gate had reached more than 1 million tonnes, up 89.2 percent over the same period last year. The collected fees were totalled at more than 34 billion VND (1.47 million USD), up 58 percent year-on-year and equal to 62.7 percent of the yearly target.
Specifically, the number of vehicles crossing Bac Luan bridge border gate reached 28,358, including 12,806 vehicles from the Vietnamese side and 15,552 from the Chinese side, and more than 470,000 tonnes of import and export goods were transported through the border gate, a year-on-year increase of 12 .38 percent. Meanwhile, 24,817 vehicles carrying 608,334 tonnes of goods went through Hai Yen temporary pontoon bridge, an increase of 335 percent in the volume of goods over the same period of 2020.
Since the beginning of the year, authorities at the Mong Cai international border gate have carried out procedures for nearly 6,500 people entering and leaving Vietnam, of whom 1,876 were put under quarantine.
In order to create favourable conditions for the import and export of goods, Mong Cai city has organized quick tests for SARS-CoV-2 virus at the border gate for drivers and assistants of trucks carrying out imports and exports.
According to statistics, the city has taken samples to COVID-19 testing for 6,770 officers, soldiers and civil servants at border gates and businesses, transit drivers, vessel crew members, and long-distance drivers at the border gates.
Recently, Mong Cai has also completed COVID-19 vaccination for all residents in border areas, and workers in industrial zones to create a safe environment for economic development, especially border economic development.
Over the past years, the northern province of Quang Ninh has been working to gradually establish itself as a "gateway" for cross-border trade between Vietnam and China, thus contributing to bilateral economic ties.
Quang Ninh, which shares more than 118km of land border and 191km of sea border with China, is located at the start of the countries' "Two Corridors, One Belt" economic cooperation zone, in the Nanning – Singapore Economic Corridor, and the expanded Gulf of Tonkin inter-regional cooperation area under the ASEAN – China Free Trade Area.
In 2020, the value of goods traded through Quang Ninh's border gates approximated 2.79 billion USD, including over 1.11 billion USD in exports, 980 million USD in imports, and 695 million USD worth of items temporarily imported for re-export or stored in bonded warehouses.
Of the total figure, Mong Cai city posted over 1.09 billion USD in exports, nearly 1.04 billion USD in imports, and 694 million USD of goods temporarily imported for re-export or stored in bonded warehouses. Hai Ha district recorded 3.5 million USD in exports and 4.5 million USD in imports, and Binh Lieu district had 16.6 million USD in exports and 65.9 million USD in imports.
On July 16, 2021, authorities of Quang Ninh and the Guangxi Zhuang Autonomous Region of China officially launched customs clearance through Bac Luan No 2 Bridge, which links Mong Cai International Border Gate of Vietnam with Dongxing Border Gate of China.
The two sides have also coordinated to complete infrastructure for Hoanh Mo – Dong Zhong border gate area so that this border gate pair will officially make debut in the near future./.
WB to support 600 Vietnamese SMEs
About 600 small and medium-sized enterprises (SMEs) in Vietnam will get support in applying technology solutions to improve labour productivity and their competitiveness as part of a project launched on July 22 by the World Bank (WB).
The project, which will be implemented by the WB in collaboration with Real-Time Analytics (RTA), a research consulting and technology development firm, aims to assist Vietnamese SMEs in the digital transformation process.
The project will focus on four contents including assessing the health of businesses to identify problems that cause a decrease in their performance and competitiveness; raising awareness of digital transformation and digital transformation strategies; applying technology solutions to help businesses digitise their operations; and measuring the effectiveness of digital transformation application.
In addition to supporting knowledge training on digital transformation and information access services, the project also provides financial assistance to SMEs in applying three technological solutions on sale and personnel management and internal communication.
Le Dang Trung, director of RTA company, said SMEs are the largest part of the business community in particular and the economy in general. They always face difficulties because they do not have many resources and lack capacity in terms of management and technology, thus, lowering their competitiveness. Therefore, the WB and RTA want to create a digital transformation programme for SMEs to easily access, without spending resources or investment costs, he said.
There will be two digital transformation funding packages for Vietnamese SMEs, namely Digital Express and Digital Prime.
The Digital Express package will cover the finance of all corporate employees who register to use it, within 12 months from August 2021 to July 2022. 300 small and medium enterprises will be selected for this package.
Speaking at the launching ceremony for the project, Shawn Tan, a WB expert, said the project focused on supplying a set of enterprise resource planning (ERP), allowing businesses to collect, store, manage and interpret administrative data from its operation.
When businesses adopt these tools, they can improve communication and coordination among employees, as well as have more efficient administrative and business planning processes, thus better serve customers, increase labour productivity, sales and profits, he said./.
Fishers overcome difficulties to set sail
The Covid-19 pandemic has affected most industries. However, thanks to the tightening on pandemic prevention and control, favorable weather, the cooperation, and companionship of enterprises, the fishing industry in Binh Thuan Province, one of the four largest fishing grounds in the country, has achieved many positive results.
At present, fishers in Binh Thuan Province are entering the main fishing season of the year. While in some coastal provinces and cities, the fishing output is not as expected, the fishing ground of Binh Thuan province is quite vibrant, with diverse and abundant seafood output.
On the morning of one day in mid-July, the fishing vessel with a capacity of more than 400CV of Mr. Phung Van Tien, a fisherman in Phan Thiet City of Binh Thuan Province, and a crew of more than ten people arrived at Phan Thiet fishing port after more than half a month of fishing offshore. Right after that, nearly ten tons of mackerel scads and yellow-stripe scads on Mr. Tien's ship were immediately bought by a company. "The day we set sail, everyone was worried and afraid that seafood could not be consumed because of the pandemic. However, when knowing that enterprises still purchase fish, we felt assured to stay at sea. Although the price of seafood decreased in this fishing trip, after deducting the cost, my crew had an income of nearly VND10 million each," said Mr. Tien.
After handing over the seafood to the buyer, the group of fishermen on Mr. Tien's ship immediately contacted the health authority to make medical declarations and submit the sailing schedule, and then returned to the vessel to continue preparing essential supplies for the fishing trip in the next few days.
As dozens of tons of anchovies collected in the first trip of this main fishing season were purchased all by traders, Mr. Tran Ut, a fisherman in Mui Ne Ward of Phan Thiet City, happily said that the current price of anchovies was at VND9,000 per kilogram. Although it slightly decreased compared to the same period last year, the decrease was not much. At present, local traditional fish sauce and fish meal facilities needed a large volume of fish for production, so anchovies and some other fish were still consumed stably.
As for Phu Quy Island District, due to the impact of the Covid-19 pandemic, the prices of seafood tended to decrease, but in return, the fish catches were high. According to the People's Committee of the island district, in the first six months of this year, the weather was favorable, so the seafood output reached nearly 19,000 tons, up 4.65 percent over the same period last year.
Mr. Huynh Quang Huy, Director of the Department of Fisheries of Binh Thuan Province, said that up to now, the local fishing output is estimated at 100,000 tons, up 20 percent year-on-year. According to the Department of Agriculture and Rural Development of Binh Thuan Province, seafood fishing and trading activities in the locality are still under control, thanks to good pandemic prevention by the province and the cooperation and support of seafood purchasing establishments and enterprises when committing to consuming seafood for fishers.
Mr. Do Van Thanh, Director of Bich Thanh Company in Phan Thiet fishing port in Phan Thiet City, said that since the outbreak of the Covid-19 pandemic, especially in Ho Chi Minh City, the seafood consumption of enterprises in Binh Thuan has faced many difficulties. However, enterprises have still tried their best to buy seafood for fishers, then put them in cold storage for preservation to waiting for favorable conditions to put on sale.
"Fishers are long-term partners, so when they face difficulties, we have to find a way to support them as much as we can. Not only me but many other local establishments and enterprises are also operating at full capacity to buy seafood from them," said the owner of a seafood purchasing establishment at La Gi fishing port.
Mr. Truong Quang Hien, Chairman of the Phan Thiet Fish Sauce Association, also informed that anchovies are the main seafood exploited in Binh Thuan Province during the main fishing season. Although currently, due to the complicated developments of the Covid-19 pandemic, steamed anchovy product for export to China and South Korea is temporarily suspended, thanks to the active purchase of local traditional fish sauce production facilities and companies, anchovy consumption is not stagnant.
However, according to the fisheries sector, seafood purchasing establishments, and enterprises in Binh Thuan Province, the above solutions are only temporary because the storage and processing capacity of these units is limited. Moreover, while the price of seafood products is declining, gasoline and oil prices have climbed, making the cost for each sea trip of fishers many times higher. Therefore, in order for the fishing and seafood purchasing industry to be stable, besides the need to focus on repelling the Covid-19 pandemic to stabilize trade, fishers, and seafood purchasing enterprises need support from authorities with practical solutions, such as supporting fuel prices and storage costs and actively promoting consumption channels, ensuring pandemic prevention and economic development at the same time.
Vietnamese firms urged to file for IP protection in foreign markets
Vietnamese firms should attach more importance to registering for intellectual property protection in foreign markets if they wish to develop brands abroad, according to the National Office of Intellectual Property (NOIP).
NOIP's statistics show that there were about 50,000 applications for intellectual property protection in the domestic market but only around 280 applications for protection in foreign markets. This reflects that Vietnamese firms are not paying adequate attention to intellectual property protections in the import and export sector.
Pham Ngoc Luan, CEO of Meet More Coffee, said that after exporting several batches of coffee to South Korea, his company proceeded to apply for protection of the Meet More brand. However, the application was rejected for the reason that the brand was already registered in the South Korean market.
Luan was surprised to learn that it was his company's distribution partner who had registered the Meet More brand in the Republic of Korea. Fortunately, his company successfully negotiated with his distribution partner to get the rights to the name.
There are also lessons to learn from past trademark disputes in foreign markets for companies like Trung Nguyen Coffee, Vinataba, Ben Tre coconut candy or Phu Quoc fish sauce.
Most recently an application to trademark ST25 rice was lodged in the US to the ire of the local scientists who developed the new strain of rice.
NOIP's Deputy Director Tran Le Hong said that Vietnamese firms must pay attention to building and protecting brands if they want to engage with foreign markets.
Hong said that the protection of brands was territorial, meaning that if a trademark was protected in Viet Nam, this did not mean that the trademark was also protected in other markets. Businesses needed to consider registering for trademark protection in foreign countries, he stressed.
According to Nguyen Quoc Thinh from Thuong Mai University, there are several reasons that make Vietnamese enterprises hesitant to register for trademark protection in foreign markets.
The first reason is the lack of awareness. Other reasons were that enterprises were discouraged by complicated procedures together with the high cost of registering in some markets that made it difficult for small and medium – sized enterprises.
"It is time Vietnamese enterprises started to seriously consider establishing protection for their brands in foreign markets which is critical to their development," Thinh said.
According to Hong, enterprises could get support from the NOIP to register brand protection abroad or get consultations from about 200 IP consultancy firms in Viet Nam.
Hong said that the registry for trademark protection should be put into consideration together with a detailed business plan for specific markets.
Techcombank posts sector-leading CASA ratio in H1
Techcombank has recorded positive results in the first half of this year maintaining the leading CASA ratio of 46.1 percent.
In a report released on July 21, Techcombank said its before-tax profit in the first six months of the year reached 11.5 trillion VND (498.8 million USD). This was an increase of 71.2 percent over the same period last year. Its total operating income (TOI) in the period grew 52.1 percent year-on-year to 18.1 trillion VND as net interest income (NII) and non-fee income (NF) both saw double-digit growth.
The bank's securities-related fees, the largest component of NFI, grew 18.4 percent in H1 from the same period last year, comprising 420 billion VND in bond underwriting fees and 865 billion VND in other services – including trustee, consulting, agency, brokerage and fund management fees.
Its bancassurance grew 60.1 percent in annualised premium equivalent (APE) and net bancassurance fees grew 48.1 percent year-on-year despite the impact of social distancing on in-person consultations.
Operating expenses were up 29.6 percent year-on-year to 5.2 trillion VND and cost income ratio (CIR) was 28.4 percent as a result of COVID-19 related delays in IT and marketing investments.
Its provision expenses were 1.4 trillion VND, 19.6 percent more than in the same period last year.
Techcombank's total assets ended in the first half of the year up 27.4 percent to 504.3 trillion VND while credit provided to customers as at 30 June was up 11.2 percent to 353.7 trillion VND. Retail loan pick-up in the second quarter of the year kept credit demand healthy.
Its outstanding credit to large corporates and small-medium enterprises (SMEs) grew 11 percent from the end of 2020. Total deposits in H1 were also up 15.8 percent year-on-year to 289.3 trillion VND.
Techcombank maintained ample liquidity with a loan-to-deposit ratio (LDR) of 76.6 percent. It remains one of Vietnam's best capitalised banks with a Basel II CAR of 15.2 percent, higher than the Basel II Pillar I minimum requirement of 8 percent.
Non-performing loan (NPL) ratio was 0.4 percent as at 30 June 2021, against 0.9 percent last year. Restructured loans under Techcombank's support programme for COVID-19 impacted customers fell to 2.7 trillion VND, or 0.8 percent of outstanding loans, with 67 percent of these customers having recovered by the end of first quarter of the year.
"An expanding customer base and higher level of banking engagement in both retail and corporate sectors helped grow fee income. While we remain confident about medium and long-term economic prospects, COVID-19 continues to challenge some of our customers. This was exacerbated towards the end of the second quarter when the government mandated stricter social distancing to control recent outbreaks while ramping up its vaccination programme. As we have since the pandemic started, Techcombank remains focused on protecting our employees and providing customers with increasingly digital, branchless solutions," said Jens Lottner, CEO of Techcombank./.
Ninh Thuan shifts towards 'green economy'
The south-central province of Ninh Thuan saw a strong economic growth rate of more than 12 per cent over the last two years, thanks to advantages in marine economy and renewable energy.
In the past five years, the province's development orientation has shifted to a green economy for sustainable development, and economic competitiveness and efficiency.
It prioritizes energy; tourism; agriculture; forestry and fishery; industry; education and training; and construction and real estate. These groups of industries are expected to contribute 91 per cent to the province's GDP and 85 per cent of jobs.
According to the province's Statistics Office, the province's total state budget revenue in the first five months of this year reached about VND1.8 trillion (US$78.4 million), equivalent to its state budget revenue in 2015.
Last year, the province's gross regional domestic product (​GRDP) was estimated at 12 per cent. Meanwhile, its total state budget revenue was estimated at VND3.9 trillion ($169.8 million), exceeding 11.4 per cent of the plan.
The industrial production value reached nearly VND17 trillion ($740 million) last year, a year-on-year increase of 22.5 per cent.
The value of the solar power sector rose by 147.8 per cent and the wind power sector increased by 58.5 per cent.
Provincial tourism has strongly developed in the past five years. The province has advantages in tourism development, with 59 cultural heritage sites, and unspoiled beaches and islands.
The 100km-long coast from Thuan Bac District's Cong Hai Commune to Thuan Nam District's Ca Na Commune offers a charming natural landscape. On one side is the primaeval forest and on the other the blue ocean.
There are popular tourist attractions such as Vinh Hy Bay, Rai Cave, Ninh Chu – Binh Son beach, Ca Na beach, Mui Dinh (Dinh Headland) and Thai An Vineyard.
The province also offers favourable weather for exploiting the potential of marine sports and activities. However, only the Tanyoli Tourist Area in Ninh Phuoc District's Phuoc Dinh Commune provides tourists with marine sport tourism services.
Phan Tan Canh, deputy chairman of the provincial People's Committee, said the committee had approved a plan to build a sports complex on the beach along Dong Hai Ward in Phan Rang-Thap Cham City.
It will serve both locals and tourists, including a sports centre designed for windsurfing, parasailing, flyboarding and scuba diving. It will help Phan Rang – Thap Cham City become the first metropolis in experiential tourism in the region.
Nguyen Duc Chi, the investor of Ninh Chu Sailing Bay project, said the province was catching up with current tourism development trends.
Phan Rang-Thap Cham will be the first locality in the country developing beach resorts combined with experiential tourism services.
Other tourist cities such as Nha Trang, Da Lat, and Phan Thiet cities are lacking experiential tourism services. "There will be a great opportunity for the province to become a high-quality experiential tourism hub," he said.
Dr Du Van Toan from the Viet Nam Institute of Seas and Islands said Ninh Thuan should move toward combining wind power with eco-tourism to boost the local economy.
For example, a wind power plant built in a coastal area in southwest France has earned higher revenue from tourism than wind power generation.
According to CBRE Viet Nam's research and consulting department, tourism companies could work with investors of wind power projects on creating tours to wind farms including education on wind power and renewable energy.
The provincial People's Committee has urged the Department of Industry and Trade to build a plan to turn Ninh Thuan into the country's renewable energy centre.
The Department of Culture, Sports and Tourism has been assigned to give investment priority to areas with potential for marine tourism development.
The province targets 3.5 million visitors by 2025 and six million visitors by 2030.
By 2025, the province's economic growth is expected to rise by 1.9 times compared to 2020.
Its GRDP could reach about VND6.5 trillion ($282.3 million). The marine economy would account for 42 per cent.
Bac Lieu Province focuses on developing collective economy
The Cuu Long (Mekong) Delta province of Bac Lieu is seeking to develop its collective economy, especially co-operatives that use advanced technologies, from now through 2025.
It will focus on agriculture, seafood, salt production, industry including small businesses, construction, transport, trading, and services.
It plans to establish 140 new co-operatives, 105 in agriculture, by 2025.
It will encourage co-operative groups that operate efficiently to develop into co-operatives. Under the 2012 Co-operative Law, a co-operative group has at least three members and a co-operative, at least seven.
To achieve the targets, the province will take measures like boosting advocacy about the law and implementing it, improving the operations of collective economy units and mobilising investments from various sources to enhance their efficiency.
It will have preferential policies to get outstanding university graduates and young scientists to manage co-operatives, encourage research into advanced techniques for developing the collective economy and prioritise soft loans for co-operatives to acquire them.
It will focus on developing brand names for co-operatives to increase their competitiveness, and organise trade promotion activities at home and abroad to popularise them.
It will create conditions for co-operatives and co-operative groups to exchange experiences and link up with companies to develop value chains.
It will prioritise creation of infrastructure for transport, power and water and irrigation to enable development of the collective economy.
The province has 170 co-operatives, but a majority have little capacity in terms of finance, competitiveness and management, and face difficulties in adopting advanced techniques and seeking outlets for their products, according to its Co-operative Alliance.
It said co-operation between members of a co-operative, between co-operatives and between co-operatives and companies have not been implemented efficiently.
With the number of co-operative managers who have a college or university degree only meeting 79 per cent of target, most lack the skills needed for managing and organising the operation of co-operatives, it added.
Nguyen Van Vu, its chairman, said the alliance would work with local authorities to improve the quality of management and instruct co-operatives in linking up with companies.
Under the national target programme for building new-style rural areas, the province's co-operatives, especially agricultural co-operatives, have got more support in recent years.
"Co-operatives can easily access loans from the province's Co-operative Development Fund," Vu said.
The fund provided loans worth a total of VND6.3 billion (US$273,000) to nine co-operatives last year and would provide VND19 billion ($821,000) to 26 others this year, he said.
The alliance has identified some efficient co-operatives for further development, and they will get priority in promoting their products, building brands and getting soft loans.
The Vinh Chau Artemia Co-operative in Bac Lieu City's Vinh Trach Dong Commune is one of those selected.
With support from the alliance and local authorities, it breeds artemia, also known as brine shrimp, for harvesting its eggs.
When artemia eggs are harvested and processed, they can be stored for a very long time. When the eggs are provided sufficient conditions, they will hatch into nauplii, which are used as food for fish and shrimp larvae and have high nutritional value.
The co-operative exports its artemia eggs to many markets, including the US and the EU, and has annual revenues of VND20 billion ($865,000).
Thermal power companies face stiff competition from renewable energy
Demand for electricity is soaring amid the peak of the hot season but stocks of thermal power companies still struggle as their power output is being strongly impacted by the development of renewable energy.
The intense heatwave has caused the country's electricity demand to skyrocket. According to Vietnam Electricity (EVN), the national electricity consumption has set a new peak at 42,146MW. Power consumption in the North and in Ha Noi has also set new records of 18,700MW and 4,700MW, respectively.
SSI Securities Company said in the first five months of this year, renewable energy sources took about 13 per cent of total consumption from traditional energy sources. The consumption of thermal power has also been reduced due to favourable hydrological conditions for hydropower plants to operate.
Hai Phong Thermal Power Joint Stock Company (HND) said that the electricity output in Q2 reached 95.5 per cent of the quarter's target. Profit in the quarter reached VND166 billion (US$7.2 million). But in the first quarter, the company suffered a loss of VND11.2 billion, mainly due to the decrease in actual power output.
In the group of thermal power businesses, gas power companies have become less competitive than coal power companies. Power output from gas power plants in the first five months decreased by 16.8 per cent over the same period last year.
Profits of Nhon Trach 2 Thermal Power Joint Stock Company (NT2) have been relatively low in recent quarters. NT2 leaders attributed this to the participation of renewable energy in the country's power system.
In 2021, NT2 plans to produce 4.6 billion kWh of electricity, with total revenue of VND7.7 trillion and profit after tax of VND462.2 billion. With this plan, NT2 revenue is estimated to increase by 26.8 per cent but profit will fall by 26 per cent compared to last year's performance.
According to SSI, in the context of rising gas prices, the average selling price of electricity from gas power plants has exceeded that of coal power plants since the beginning of 2021.
A series of thermal power stocks such as Pha Lai Thermal Power Joint Stock Company (PPC), PetroVietnam Power Nhon Trach 2 Joint Stock Company (NT2) and Hai Phong Thermal Power Joint Stock Company (HND) have undergone strong declines.
PPC has lost 14.2 per cent in the last three months and remains almost flat compared to the beginning of this year. NT2 has declined 16.2 per cent compared to early this year and HND has decreased by 6.25 per cent.
Some renewable power stocks have recorded good gains since the beginning of this year.
Vinh Son-Song Hinh Hydropower JSC (VSH) has risen nearly 16 per cent since early this year. Da Nhim – Ham Thuan – Da Mi Hydro Power Joint Stock Company (NDH) increased by 15 per cent.
In the context of prosperous renewable energy development, Bamboo Capital Joint Stock Company (BCG) is focusing on developing wind power projects and rooftop solar power projects, with the goal of completing a 200MW of solar power in 2021.
Truong Thanh Development and Construction Investment Joint Stock Company (TTA) has set a revenue target of VND680 billion, profit after tax of VND150 billion, up 37 per cent and 16.2 per cent, respectively compared to last year.
The company said its power plants had stable operation and Phuong Mai Wind Power Plant project, invested by TTA and the associated company, was expected to come into operation in the second quarter of this year.
At the end of the first quarter, TTA recorded profit of VND31 billion, double that of the same period last year, because it had two plants coming into operation in the quarter, namely Pa Hu Hydropower and Ho Nui Mot Solar Power.
At Sao Mai Group Corporation, revenue from solar power has contributed positively to the business in recent years. In 2020, this business segment brought in VND515 billion of profit for ASM, reaching 136 per cent of the yearly plan and up 227 per cent year-on-year.
In 2021, ASM sets a target of VND13 trillion in revenue, VND700 billion in profit after tax, and 10-20 per cent dividend payout ratio.
Nike could face shortage of "Made in Vietnam" sneakers as COVID-19 accelerates
Nike is running out of "Made in Vietnam" sneakers as COVID-19 forces suppliers in Vietnam to suspend operations, according to a new report from S&P Global Market Intelligence.
Two of Nike Inc.'s suppliers in Vietnam – Changshin Vietnam Co., Ltd. and Pou Chen Corporation – have temporarily suspended manufacturing to curb the spread of the coronavirus. This may exacerbate supply chain disruptions for Nike.
In the 2020 fiscal year, Nike said contract factories in Vietnam made roughly 50 per cent of its branded footwear. Meanwhile, global trade company Panjiva's data shows that Vietnam accounted for 49 per cent of US seaborne imports linked to Nike and its products in the second quarter of 2021 after growth of 6.6 per cent on-year.
Nike's imports from Vietnam are led by footwear, which was included in 82 per cent of shipments in the 12 months to June 30 after climbing 28.8 per cent in the second quarter of 2021 versus a year earlier. That raises the question as to whether other major sneaker brands may face similar challenges.
"The health and safety of our teammates, as well as that of our suppliers, remains our top priority," a Nike spokeswoman told CNBC in an emailed statement.
"We continue to work with our suppliers to support their efforts in responding to the dynamic and unprecedented nature of COVID-19," she said. "As we continue to navigate these circumstances, we expect our suppliers to prioritise the health and livelihoods of their employees and continue to comply with legal requirements and the Nike Code of Conduct on the provision of wages, benefits, and severance. We are confident in Nike's ability to navigate these near-term dynamics and we remain prudent in our planning."
Taiwanese foot manufacturer Pouyuen Vietnam suspended the operation of its factory in Ho Chi Minh City from July 14 to 23 as it can not arrange on-site camps and coronavirus testing every three days for all employees.
Pouyuen Vietnam is the largest employer in Ho Chi Minh City with over 56,000 employees. Cu Phat Nghiep, trade union chairman at the company, said that it is hard to prepare on-site camps for so many workers. The company also mulled about reducing production and headcount, however, even if the production is kept at a minimum of 30 per cent, the company would will have to provide accomodation for 16,000 workers.
Meanwhile, Changshin Vietnam, a South Korean shoemaker, also had to shut down three of its factories in the southern province of Dong Nai from July 15 to 20. The company, which employ nearly 42,000 workers, has detected a virus cluster at its factories.
Private sector to foster as key propellant for 2021-2025 economic growth
With an average annual growth rate of 6.5-7% set for the 2021-2025 period, Vietnam will apply a range of solutions including the creation of new spaces for private businesses to operate as one of the most important pillars of economic growth.
The government has just sent to the National Assembly a report on an expected plan for socioeconomic development in the 2021-2025 period. In which it is expected that the annual economic growth will hit 6.5-7%, and Vietnam will become a higher middle income country by 2025.
In order to realise this ambitious plan, the government said that one of the key solutions will be to further develop the private sector, which includes private domestically-invested and foreign-invested enterprises, and household businesses as well.
"Big private groups are to be established and developed, with big strengths able to compete in the regional and international markets," said a draft resolution on socioeconomic development during 2021-2025. "Greater efforts must be made to create 1.5 million operational enterprises by 2025, with private businesses to generate 55% of GDP."
Creating bigger spaces for the private sector
According to the political report – the most important document debated by the Central Party Committee at the 13th National Party Congress held in early this year, the private economic sector "is to be encouraged for development in all sectors not banned by the law, especially in the areas of production, business, and services. The sector is supported in developing privately-owned big companies and groups with high competitiveness."
"Private enterprises are encouraged to cooperate with state-owned enterprises (SOEs), cooperatives, and households; and to develop joint stock companies with large participation of all entities. Foreign investment is an important part of the national economy, playing a big role in mobilising investment capital, technology, and modern management methods, and expanding export markets," read the Party report.
Also, according to the governmental report, the private sector will be developed into "a really important impetus of the economy" in the 2021-2025 period.
"The development of the private sector must be encouraged vigorously, especially in the fields of manufacturing and processing, digital technology, and IT, with the formation of local and international supply chains and value chains," the governmental report read. "A number of key telecommunications and IT firms will be developed to lead the country's 4.0 technological development, laying a firm foundation for the development of a digital government, digital economy, and digital society."
The government stated that the best conditions are to be created for the private sector to flourish in terms of both quantity and quality.
In Vietnam, the private sector creates up to 42% of GDP, and more than 50% of economic growth, 30% of the state budget revenue and 85% of the labour force.
According to the General Statistics Office, by late last year, Vietnam had nearly 800,000 operational enterprises, of which about 98% are of small and medium size. Within the last year, there were 134,900 newly established enterprises, with total registered capital of over VND2.23 quadrillion (US$96.96 billion), employing more than one million labourers. This was down 2.3% in the number of registered enterprises, but represented a year-on-year increase of 29.25% in registered capital.
In the first six months of this year, Vietnam saw 67,100 newly established enterprises, with total registered capital of VND942.6 trillion (US$41 billion) and employing 484.300 new labourers, up 8.1% in the number of enterprises and 34.3% in registered capital.
If another VND1.15 quadrillion (US$50 billion) which was registered by 23,700 operational enterprises is included, the total capital inserted into the Vietnamese economy in the first half of this year will be as much as VND2.095 quadrillion (US$91 billion). Moreover, 26,100 enterprises also resumed their operations, up 3.6% year-on-year.
In the first six months of 2021, the total number of enterprises newly established and resuming operations hit 93,200, up 6.9% year-on-year. The average registered capital of each enterprise reached VND14.1 billion (US$613,000), a year-on-year rise of 24.2%.
The Party stated that from now until 2025, in order to further facilitate private sector development, "all SOEs will continue to be reshuffled, investing only in key fields of the economy, and in geographical areas important in security and defence, and in the fields not invested by other economic sectors."
"The reshuffle of SOEs must be open and transparent, especially in equitisation and divestment. By 2025, SOE reshuffle must be completed, with loss-making groups and corporations to be addressed fully."
The state will exclusively invest in only four fields, including provision of indispensable products and services for the society; service of defence and security; natural monopoly; and large-scale high-tech application with big investment creating momentum for rapid development of the economy's other fields.
Raymond Mallon, senior economic expert living in Vietnam for over 20 years, said that SOE reforms are needed to accelerate national productivity growth and thus to increase incomes and living standards.
"Conflicts of interest arise if the state is both the owner and the regulator. And conflicts of interest generate inefficiencies. As has been seen in Vietnam and globally, such conflicts of interests lead to pressures for a state owning agency to regulate in a manner that is not in the nation's interest," Mallon said.
For example, by imposing business conditions or other restrictions on new businesses, the state agency can reduce the competition faced by SOEs. Policies and institutional structures that constrain competition are not in the nation's interest. While constraints to competition can make individual SOEs more profitable, the resulting lack of competition stifles innovation and productivity growth.
"This hurts consumers because of higher costs and less innovation and variety; workers because reduced productivity growth means reduced growth in wages; other investors whose firms are being constrained; and the government because of increased opportunity for corruption," Mallon explained.
According to Mallon, such reforms can reduce opportunities for misuse of state resources. Substantial state management capacity is needed to effectively exercise state ownership rights in even a limited number of SOEs. It is important that limited state capacity be focused on effectively governing institutions that provide essential public services such as health, education, water supply and sanitation, environmental protection, energy, and roads.
Recently, slow progress in equitisation and divestment of SOEs has been attributable to COVID 19 – but the pandemic is only a recent cause. More fundamental causes are overpricing of shares, reluctance of local management to act, and bureaucratic inertia. Schedules have been set, and deadlines missed. Most recently, many SOEs missed 2020 deadlines contained in Decision No.26/2019/QD-TTg of the prime minister and deadlines have been reset to 2021.
According to the report of the Ministry of Finance's Department of Corporate Finance, up to May 2021, the accumulated value of divested state capital is VND286.6 billion (US$12.46 million). From that the state budget is said to have realised over VND2.16 trillion (US$93.9 million). Remarkable divestment could occur in Vietnam Rubber Group, Viettel, Vietnam Education Publishing House, Vietnam Posts and Telecommunications Group, some of which are government icons.
In the first five months of this year, the amount collected from equitisation and divestment was VND228 billion (US$9.9 million). But the expected revenue to the state budget in 2021 is VND40 trillion (US$1.74 billion), all according to projections in the prime minister's Decision No.1950/QD-TTg dated November 28, 2020,.
Experts highlight vaccination's importance for economic recovery
While the fourth wave of Covid-19, which began in late April, is hitting Vietnam's economy hard, vaccination is vital and a long-term solution for a healthy economic recovery, said experts in economics and finance from RMIT University.
Lecturers and researchers Dr Greeni Maheshwari and Dr Daniel Borer from RMIT's School of Business and Management stressed that vaccination is the best solution to reignite the suffering economy and return to a normal life.
Dr Borer especially emphasized that vaccination can help minimize the risks from supply disruptions at industrial parks.
"The rapid Covid-19 outbreak returning has reduced productivity and left factories operating below capacity in the manufacturing industry in Vietnam, where suppliers of many global firms are located," he said.
"Vaccination is the key to return to full economic activity. Vietnam would be at a disadvantage if supply chains are disrupted and the country remains closed to foreign businesses as a measure to prevent the virus spread, while other countries in the region open up thanks to successful vaccination," he added.
Dr Maheshwari said hundreds of thousands of manufacturing workers getting vaccinated will help maintain production.
"Vaccination will be beneficial for factories where thousands of workers are working in close proximity. This vaccination drive will help fight the virus and ensure the good health of workers which will enhance production and boost the economy," she added.
According to Dr Maheshwari, many countries including European countries and the United States have put their greatest efforts into vaccination, and are now starting to enjoy dramatically decreasing infection rates and the gradual normalization of life.
During the Covid-19 vaccination drive, Dr Borer assessed that that Vietnam now faces a challenge to rekindle the economy gradually but safely, while an increasing number of people get vaccinated.
"Herd immunity is said to be reached at 60-80% of the fully vaccinated population. If Vietnam waits to achieve herd immunity before restoring the economy, valuable months will be lost and more companies might go bankrupt," Dr Borer said.
"The Vietnamese Government could implement a system where businesses with 60% of their staff fully vaccinated could return to regular operations," he added.
"This micro-management at the business level would allow the re-establishment of operations for an increasing number of companies and revive the economy, while keeping those sectors where the vaccinated population is low restricted."
Dr Maheshwari believed Vietnam still remains attractive to foreign investors and its economy is set to return to growth once vaccination campaigns have been accelerated.
"Although foreign direct investment has dropped significantly due to the severe global recession, Vietnam is still an attractive country for investors as it has been successful in recovering from the third outbreak. As long as the fourth wave is controlled, it will not have much impact on the economy," she said.
According to Dr Maheshwari, the vaccination drive will also help some of the industries such as manufacturing and tourism to resume their operations and this will bring a positive impact to Vietnam's gross domestic product growth rate in the coming time.
Son La longan exported to EU, UK markets
The northern mountainous province of Son La held a ceremony on July 21 to grant a Trademark Registration Certificate to Son La longan, and export a batch of Song Ma – Son La longan to the EU and UK markets.
Statistics showed that the province's total longan growing area is estimated to surpass 19,200 hectares in 2021, with an expected output of 98,500 tonnes, of which 2,200 hectares of longan with an output of nearly 22,000 tonnes are eligible for export, mainly to China, Australia, the US and Europe.
Song Ma district is currently the largest longan granary of Son La province with over 7,200 hectares, of which nearly 5,900 hectares have been harvested with an output of over 55,800 tonnes, accounting for more than 55 percent of the province's total longan yield.
Amidst the COVID-19 pandemic, Son La has actively connected with major exporters to select high-quality products for export, thus helping increase the value of Son La longan.
At the ceremony, the National Office of Intellectual Property under the Ministry of Science and Technology handed over a decision to grant the Trademark Registration Certificate to Son La longan, while the provincial Department of Science and Technology awarded certificates of right to use the trademark to 25 cooperatives of Song Ma district.
Chairman of the provincial People's Committee Hoang Quoc Khanh said that the granting of the Trademark Registration Certificate by the National Office of Intellectual Property is an affirmation of the reputation and quality of the province's agricultural products, contributing to the completion of the legal framework, and creating a solid foundation for the supply of longan to both domestic and foreign markets./.
Business opportunities abundant for Swiss firms in Vietnam: seminar
Business, trade and investment opportunities in Vietnam were introduced to businesses of Geneva and French-speaking states of Switzerland during a seminar in Geneva.
Ambassador Le Thi Tuyet Mai, Permanent Representative of Vietnam to the UN, the World Trade Organisation, and other international organisations in Geneva, briefed participants on the business environment in Vietnam as well as the highlights in the economic partnership between Vietnam and Switzerland.
She underlined key contents of Vietnam's socio-economic development strategy, especially the Government's efforts in promoting digital transformation, innovation, and supporting start-ups, along with measures to improve the local business and investment environment to draw more investors.
Along with a sound political relationship, Vietnam and Switzerland have enjoyed remarkable progress in their bilateral economic partnership over the years with Switzerland becoming the sixth largest European investor of Vietnam and the 19th biggest foreign investor in the country, she noted, adding that more than 100 Swiss businesses are operating in Vietnam.
She held that the two sides boast high potential to further promote bilateral partnership, especially when Vietnam is switching to a green and sustainable growth model based on high technologies.
Speaking to Vietnam News Agency correspondent in Geneva, Founder and President of Swiss-Vietnamese Business Gateway (SVBG) Nguyen Thi Thuc said that the nearly-100-million-strong market of Vietnam with increasing consumption power is a promising land for Swiss firms. She said activities like business seminars and dialogue, and trips for Swiss investors to Vietnam are very necessary to increase Swiss investment in Vietnam.
Meanwhile, Felix Urech – CEO of Enriching company held that along with efforts of foreign investors and businesses, the support of local administrations in Vietnam is crucial in ensuring their smooth operations.
Participants agreed on the great potential for the collaboration between Vietnam and Switzerland, especially in banking sector.
The State Bank of Vietnam (SBV) and the Embassy of Switzerland has recently signed a bilateral agreement for a new Swiss Bank Executive Training programme (Swiss BET) to help build the capacity of Vietnamese bank executives.
The programme, which will run from 2022 to 2027, will provide a grant of five million Swiss francs (about 5.4 million USD) for the training, which will be implemented by the Swiss Finance Institute (SFI). The SFI will train more than 240 Vietnamese bank executives and hundreds of central bankers on the latest state-of-the-art banking management practices./.
Bac Ninh aims to enter top 5 localities in PCI rankings
The northern province of Bac Ninh is applying measures with the aim of rising to the top five localities in the provincial competitiveness index (PCI) rankings, according to Chairwoman of the provincial People's Committee Nguyen Huong Giang.
Giang noted that in 2020, Bac Ninh stood at the 10th position out of 63 cities and provinces across the country in PCI rankings with 66.74 points, dropping six places over the previous year, but still in the group of localities with good results.
In order to improve its PCI ranking, Bac Ninh will design policies to support human resources development and create favourable conditions for goods circulation, while assisting local firms in applying pandemic prevention and control measures and recovering production and business in the new normal situation in the rest of 2021.
The province will reform its mechanisms and policies to make them transparent, open, attractive, and unique, thus improving the local business and investment environment, attracting more strategic investors, contributing to boosting socio-economic development in the 2021-2025 period and following years, according to the provincial leader.
She said that Bac Ninh will also focus on enhancing its sustainable and long-term competitiveness by continuously improving its performance in PCI criteria and component indexes in the next five years.
To this end, the provincial leader asked local agencies, sectors and localities to effectively implement a project to reform operations and enhance the quality of public services at the provincial Centre for Public Administration and the "single window" offices during the processing of administrative procedures.
At the same time, it is necessary to reduce direct contacts as well as unofficial cost, while saving time and increasing transparency in dealing with administrative procedures for locals, businesses and organisations, she stressed.
The provincial People's Committee Chairwoman also asked departments, sectors and localities across the province to strengthen the application of information technology in processing administration procedures and providing online public services.
Each quarter, the province will make public its planning and plans on land use, construction and other sectors, and the list of projects calling for investment, and at the same time appealing for ideas and feedback for timely adjustments.
One of the drastic measures that Bac Ninh will apply is to continue enhancing the quality and responsibility of its officials and public servants, with leaders of department and agencies playing the role of setting example and taking greater responsibility for affairs under their management.
At the same time, Bac Ninh will mete out strict punishment to officials and public servants committing violations of laws and regulations, said Giang.
In order to develop services supporting businesses, improve indexes related to land use and assist local labourers, the provincial leader asked departments and sectors to coordinate closely with the Centre for Public Administration of the province to build necessary legal documents related to investment, construction and land-use, aiming to save time and simplify administrative procedures in line with the yearly plan of administrative reform.
Giang also asked for the regular gathering of opinions and feedback from businesses through dialogues, thus making timely adjustments and designing solutions to remove obstacle facing them.
Meanwhile, Bac Ninh will concentrate on building its own trademark with an aim to make the province an attractive destination for domestic and foreign investors.
Last year, the industrial hub in northern Vietnam saw the establishment of 2,390 new firms and 771 subordinate units with a total registered capital of over 24.12 trillion VND (1.04 billion USD), up 2 percent in number and 8.6 percent in capital.
As of the end of 2020, Bac Ninh was home to 18,879 firms with a total registered capital of over 284.35 trillion VND, more than 18,200 of them are working with a combined registered capital of over 280.7 trillion VND./.
Source: VNA/VNS/VOV/VIR/SGT/SGGP/Nhan Dan/Hanoitimes
VIETNAM BUSINESS NEWS JULY 23 have 8259 words, post on vietnamnet.vn at July 23, 2021. This is cached page on Asean News. If you want remove this page, please contact us.