Inforial (The Jakarta Post)
Jakarta   ●

Mon, December 6, 2021

2021-12-06

16:53

30

637689cdfb31fff4298fa997bd98e4f1

4

Inforial

Free
Are you planning a family vacation that will also be beneficial to your child's development? There are plenty of edutourism attractions in Indonesia, and Yogyakarta is a highly recommended destination.
Located in Central Java, Yogyakarta offers diverse attractions that will allow your children to have fun while learning about cultural heritage, handicrafts and nature, as well as science and technology.
The famed Keraton Yogyakarta (Yogyakarta Palace) is a center of Javanese culture and offers a museum displaying artifacts from the sultanate, iconic Jl. Malioboro is located right in the heart of the city, and Prambanan Temple, as the largest Hindu temple in ancient Java, are all indeed must-visit tourist spots.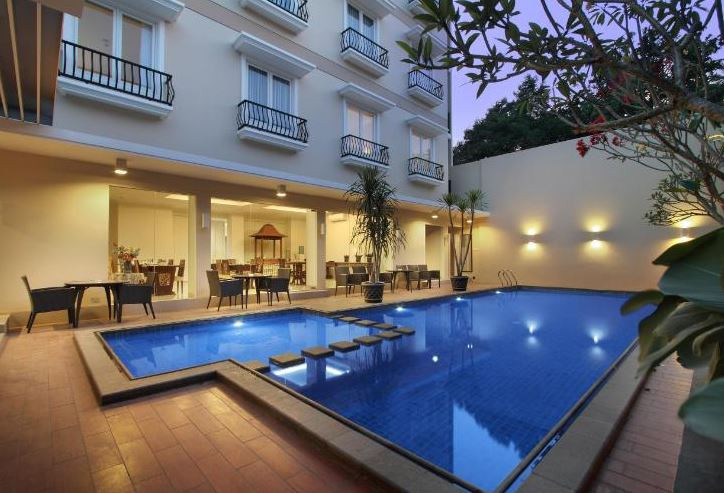 . (Courtesy of Traveloka/.)
But here are six other family vacation spots worth a visit that offer some active and interactive learning experiences.
1. Taman Pintar (Smart Park)
Taman Pintar is a science park and museum where children can express their appreciation and creation in a pleasant setting in a fun way. The park is designed to generate interest in science among all visitors, especially children, through creative exhibits, test and games.
Here, your children can find a variety of interactive displays that demonstrate science at work. For example, the Generator Van De Graaf makes a visitor's hair stand up, showing the real effect of static electricity on the human body, delighting everyone in the family while arousing your children's curiosity about science.
In another building is a kids' zone where children can play while learning by osmosis through displays like the Talking Pipe, Whispering Parabola, Tree House, Dancing Water, Water Corridor, Pulley System, Moving Bridge and Sand Palace.
There is also a special area dedicated to prehistoric animals. Here, children can learn about animals that lived 250 million ago, such as the dinosaur species tyrannosaurus and kentrosaurus. Using robotic technology, the animals on display can actually move their legs and tails.
Taman Pintar ( tamanpintar.co.id ) is located on Jl. Panembahan Senopati in downtown Yogyakarta.
2. Sindu Kusuma Edupark
Like its name says, Sindu Kusuma Edupark (SKE) is an educationally themed amusement park with various attractions that combine learning and play. One is as the popular Cakra Manggilingan, a 50-meter-high Ferris wheel that allows for a bird's-eye view of the Yogyakartan cityscape and geography, including Mount Merapi.
The 8D cinema will treat your entire family to the exciting sensation of incredible audiovisual effects, while vintage cars and trains at the park can transport your children on historical rides.
Omah Batik (grandmother batik) introduces visitors to early developments in Indonesian batik, a UNESCO intangible cultural heritage, and its counterpart, Omah Musik (grandmother music), is a music museum where visitors can even listen to old hits from Indonesian maestros.
Aside from more conventional attractions like bumper cars, a rollercoaster, spinning cups and swing rides, the park also has miniature replicas of Borobudur and Prambanan.
SKE ( kusuma-edupark.com ) is located on Jl. Magelang, KM2 in Sinduadi, Mlati, Sleman regency.
3. Taman Pelangi (Rainbow Park)
A park that lights up the Yogya Kembali Monument and Museum (Monjali) area just off the northern ring road in the city, Taman Pelangi's primary attraction of this park is its fusion of different hues of glittering lights. Casting an electric rainbow over the Monjali area at night, this park is a festival of lights and a feast for the eyes. Of course, it's only open at night, so plan a visit to unwind from your day's other excursions.
Taman Pelangi ( Instagram: @tamanpelangijogja ) is located on Jl. North Ring Road in Sariharjo, Ngaglik district, Kbupaten Sleman regency.
4. Upside Down World
The relatively new, highly Instagrammable tourist spot offers the unique and exciting sensation of appearing upside down in differently themed rooms. Your entire family can walk across a ceiling above ordinary furniture below you, even table settings, and take selfies showing you upside down or looking like an astronaut in zero gravity.
Upside Down World is located (right side up) on Jl. North Ring Road No. 18 in Maguwoharjo, Depok district, Sleman regency.
5. Gamplong Studio Alam (Gamplong Nature Studio)
The major reason Gamplong Studio Alam was established was to provide a backdrop for shooting director Hanung Bramantyo's historical drama Sultan Agung (2018, Netflix). After shooting wrapped, the film set was left on the site and converted into a tourist destination, and is especially popular among photography and selfie enthusiasts. The area exudes old-world charm that will take you back to 16th-century Java while offering a behind-the-scenes look at filmmaking techniques.
Gamplong Studio Alam ( Instagram: @gamplong_studio ) is located at Gamplong hamlet 1, Moyudan district, Sleman regency.
6. Jogja Bay Waterpark
Jogja Bay Waterpark spans 11 hectares and lays claim to being the largest waterpark in Yogyakarta and the third largest in Asia, offering 19 individually themed waterparks within its grounds.
One has a disaster theme that features huge manmade waves, while Pirates Adventure Park has entertaining elements for children.
Water slide Memo Racer can engage you and your children in a race for speed, or try the longer Bekti Adventures water slide that will take you past the many different areas in the park. If you really love the thrill of slides, try the high-speed Brando Boomeranggo.
Those members of your family just looking to spend some time relaxing can enjoy the calm and child-friendly Mimi Park, or a stroll down the banks of the Donte Wild River.
Jogja Bay Waterpark ( jogjabay.id ) is located on Jl. North Stadion in Maguwoharjo, Depok district, Sleman regency.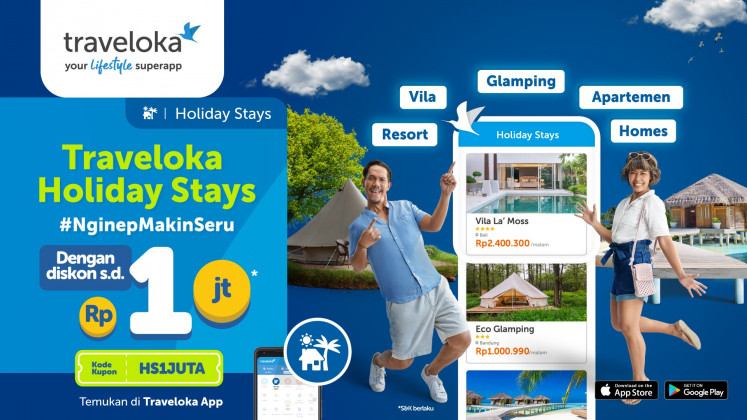 . (Courtesy of Traveloka/.)
Aside from being a cultural hub, the availability of such diversified tourist spots in the city explains why many people travel to Yogyakarta for a family vacation. The city is also known for its rich culinary traditions, such as gudeg (jackfruit stewed in coconut milk) and other mouthwatering dishes that keep visitors coming back for more. Affordable lodgings accommodate visitors of all budgets, whether they want to stay in low-cost accommodation with standard facilities or starred hotels with complete amenities. When it comes to finding the right place to stay on your family vacation, Traveloka Holiday Stay can help!
With the addition of edutourism and other attractions ready to welcome families of all types, Yogyakarta is the right destination for creating memorable experiences for children and adults alike. As it's said, "Happy memories are the greatest legacy we can leave our children."
Be sure to adhere to the health protocols in place at all public venues to make sure that you and your children enjoy your holiday safely.
Explore Yogyakarta's edutourism galore have 1175 words, post on www.thejakartapost.com at December 6, 2021. This is cached page on Asean News. If you want remove this page, please contact us.