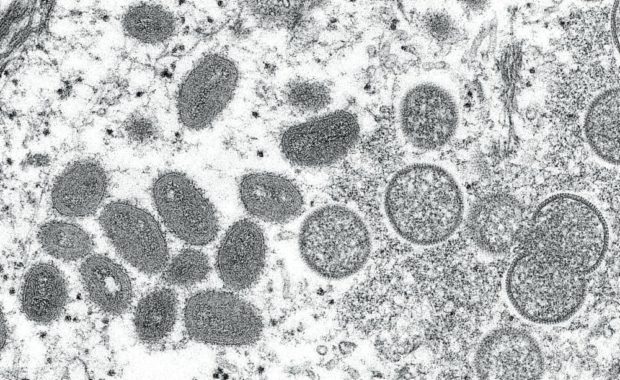 VIRUS UP CLOSE An electron microscopic image shows mature, oval-shaped monkeypox virus particles as well as crescents and spherical particles of immature virions, obtained from a clinical human skin sample associated with the 2003 prairie dog outbreak in this undated image obtained by Reuters on May 18.
MANILA, Philippines — There is no need to close the country's borders despite the threat of monkeypox, a viral disease that has been detected in other countries, according to National Task Force Medical Adviser Dr. Ted Herbosa.
Herbosa said during Saturday's Laging Handa briefing that the monkeypox was not as contagious as the COVID-19.
"As an adviser I will not recommend closing our borders just because there are 85 reported cases of monkeypox," he said, referring to the cases recorded abroad.
The Department of Health on Friday said there was no case yet of monkeypox detected in the Philippines but assured the public that it has intensified border control to avoid the entry of the disease in the country.
Herbosa said it was "not enough or not right to close down" the country's borders because monkeypox was just like chickenpox.
"It is not as contagious as COVID-19 and it is not a new disease. We already know how to treat it, how it infects. It is not a mystery illness," Herbosa said.
According to the United States Center for Disease Control, monkeypox is a viral disease characterized by a chickenpox-like rash or sores over an infected person's skin.
—NESTOR CORRALES
RELATED STORIES
WHO working on more monkeypox guidance as cases rise
Explainer: How concerned should we be about monkeypox?
No monkeypox case detected in PH, borders — DOH
For more news about the novel coronavirus click here. What you need to know about Coronavirus.
The Inquirer Foundation supports our healthcare frontliners and is still accepting cash donations to be deposited at Banco de Oro (BDO) current account #007960018860 or donate through PayMaya using this link .
Monkeypox not as contagious as COVID-19 – expert have 436 words, post on newsinfo.inquirer.net at May 22, 2022. This is cached page on Asean News. If you want remove this page, please contact us.