Inforial (The Jakarta Post)
Jakarta   ●

Thu, June 30, 2022

2022-06-30

17:07

0

e16ff64e7ecc29b4174149122334621f

4

Inforial

Free
PT Bank Negara Indonesia (Persero) Tbk. (BNI, stock code: BBNI) continues to strengthen business solutions in receiving bill payments, especially in the port services industry as part of BNI's efforts to address the strengthening growth in the segment.
Most recently, BNI cooperated with PT Sub Pelindo Multi Terminal (SPMT) in integrated cash management including managing the company's expenses and customer payments with a host-to-host system. This collaboration was marked by the signing of a cooperation agreement between the leader of BNI Region 01, representing the wholesale solutions division Tedi M Isman and SPMT finance director Yon Irawan.
The signing was also witnessed by the BNI digital business senior executive vice president Rian Kaslan and SPMT operations director Ridwan Sani Siregars at the SPMT headquarters in Medan, North Sumatra, on June 6. Yon expected that the payment for post-services would be as convenient as e-commerce transactions with easy, fast and safe services for users.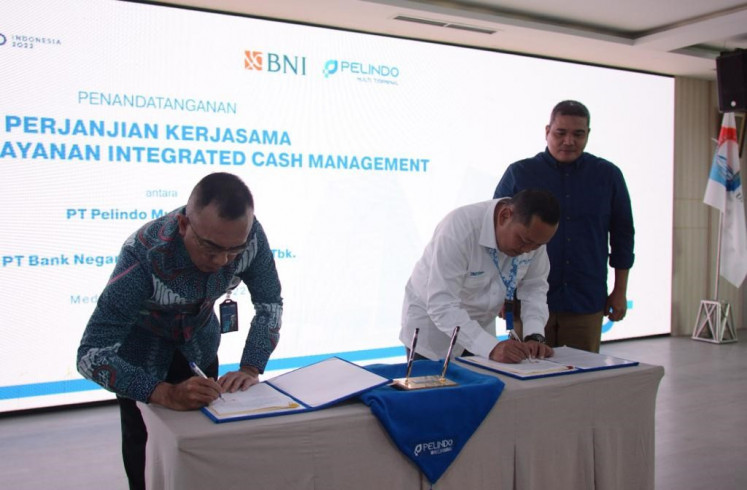 . (Courtesy of BNI/.)
"We appreciate BNI's proactive role in building a business solution to accept bill payments for SPMT's port services," he said. He further explained that since the Pelindo merger on Oct. 1, 2021, there are now four business units including the Medan-based SPMT.
As a multi-terminal business, SPMT provides port services with a specialization in operating multi-terminals in Indonesia including terminals for liquid bulk cargo, solid bulk cargo and more.
BNI's Rian also explained that the integrated cash management facilitated all disbursements and payment acceptance in an integrated system. SPMT can also customize all services according to its needs including intermodal freight transport (IFT), eBG,
e-collection, direct dealing, host-to-host enterprise resource planning (H2H ERP), supply chain financing, notional pooling and report management. Of course, this meant that SPMT can now increase the efficiency and effectiveness of its reporting, transaction monitoring and reconciliation processes.
"We are grateful for SPMT's trust in BNI for providing the best service for both SPMT and the company's users," he said.
According to Rian, BNI had successfully implemented BNIDirect services for e-tax transactions, billing payments, payroll and transfers (in-house and domestic payments). BNI has also set up an integrated H2H billing payment system and auto collection services for ports in Belawan and Dumai.
"Of course, we hope that this collaboration can add more value and benefits for financial management at SPMT." he concluded.
SPMT begins integrated cash management with BNI have 504 words, post on www.thejakartapost.com at June 30, 2022. This is cached page on Asean News. If you want remove this page, please contact us.